Under the theme of "Smartize the Future",the Appliance & Electronics World Expo 2021 (AWE2021) came to a close successfully at the National Exhibition and Convention Center (NECC), Hongqiao, Shanghai, China on March 25.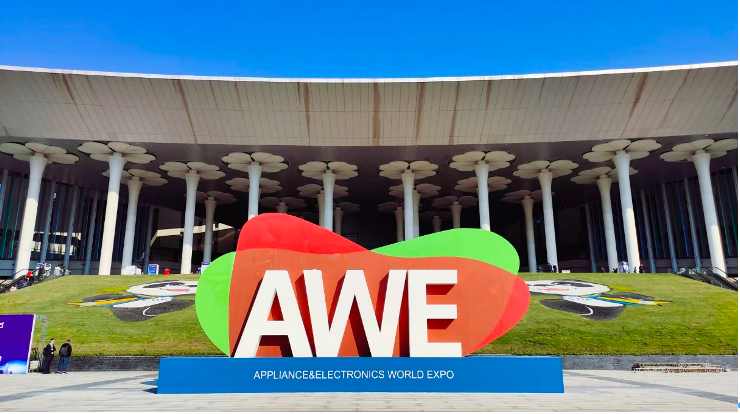 As the first offline world-class exhibition of the home appliance and consumer electronics industry after the epidemic, this high-profile feast of science and technology fully showcased the innovative achievements in many fields, such as home appliances, consumer electronics, smart home, smart entertainment, AI, IoT, and 5G, and outlined the blueprint of a better life with smart scenarios for global consumers in the next decade.
Although AWE2021 was postponed and changed the venues due to the epidemic, it attracted industry players, media, and a large number of consumers in the home appliance and consumer electronics industry, including foreign visitors living in China and visitors from other provinces and cities. According to the data from AWE's organizer China Household Electrical Appliances Association (CHEAA), the number of AWE2021 visits exceeded 350,000, reaching a historic high.
Larger scale and stronger influence in the first year of AWE's new decade and the 14th Five-Year Plan Period (2021-2025)
2021 marks the first year of AWE's new decade. Jiang Feng, Executive President of CHEAA, said, "The objective of China's home appliance industry during the 14th Five-Year Plan (2021-2025) is to play a leading role in scientific and technological innovation of home appliances in the world." Growing together with the industry, AWE has made continuous breakthroughs in scale, quality and global influence over the past decade. As the starting point of the new decade, AWE2021 has brought the world the highest-level and largest-scale exhibition of the most cutting-edge and the most abundant innovative achievements.
With its exhibition area extending to 150,000 square meters, AWE2021 brought together nearly a thousand exhibitors at home and abroad, including international heavyweights, domestic brands, technology giants & unicorn AI companies, and core component & material suppliers, such us Laurastar, 3M, Pentair, Westinghouse and Shark, TCL, Skyworth, Konka, Meling, Gree, Aux, Fotile, Robam, Vatti, Vanward, Macro, Galanz, Joyoung, Supor, Lexy, Ecovacs, Meida, Golden Home, Marssenger, Sanfer, HEGII, Airmate and Flyco, Tuya, Topband, Ayla, Xingluo Technology, Donper, Highly, Schott, Higasket, Saite and so on. The consistent support of these established enterprises demonstrated the value and development prospects of AWE.
AWE2021, as the only one of the top three global home appliance and consumer electronics shows that comes back offline since the outbreak of COVID-19, won media reports at home and abroad.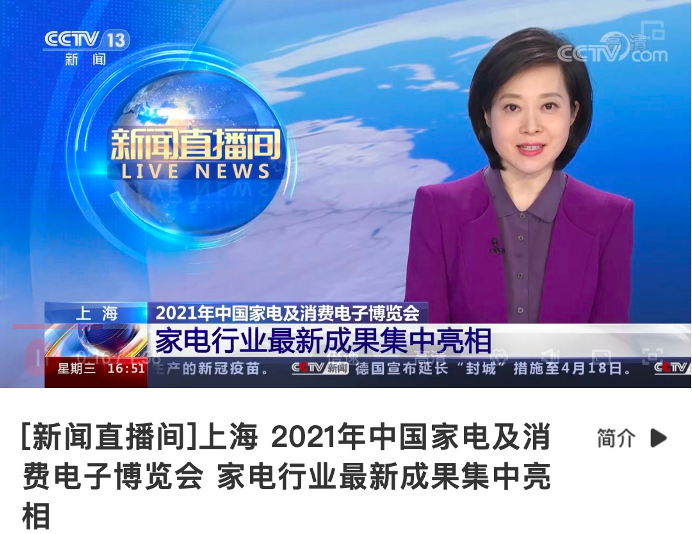 AWE2021 was continually reported by CCTV. Among them, the "Live News" of CCTV 13 made a 5-minute special report on AWE2021, spotlighting new technologies and products in the home appliance and consumer electronics. The GRT Satellite Channel reported on the roll-out of new products of brands like TCL and Gree. In addition, international media and organizations including TV Tokyo, Kyodo News, and Reuters also conducted in-depth reports on AWE2021.
AWE2021 was not only widely covered by traditional media, but also went viral on the social platforms. Under the Weibo topic #AWE2021#, the number of interactions among visitors, media, exhibitors and the organizer came to over 100,000 times, attracting huge attention from netizens. On the closing night, AWE2021 earned more than 100 million views on Weibo. AWE2021 not only appealed to visitors and global industry players in the home appliance and consumer electronics, but also drew wide attention of netizens to the future intelligent life. Through on-site activities at the NECC and publicity via the large LED screen on the building facade beside the Huangpu River, AWE showed its strength as a global platform that powers the intelligent life of hundreds of millions of consumers.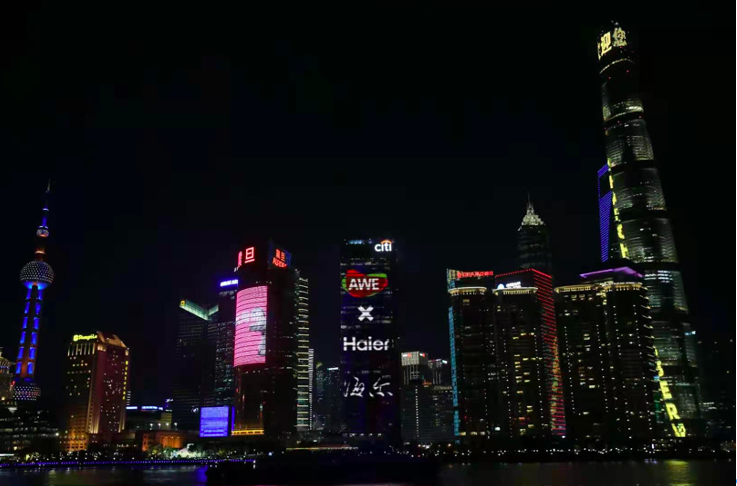 Experience-oriented AWE is poised to pave the way for the future intelligent life in a multi-tier approach
Under the theme of "Smartize the Future", AWE2021 showed new scenarios about smart life that make the industry and users excited and new products released by exhibitors. More and more companies are taking AWE as their first option to release their new products, strategies, marketing, and ecosystem.
Home appliance big names such as Haier, Hisense and TCL showcased their smart home solutions covering scenarios such as kitchen, bathroom, bedroom and living room. Sony, Skyworth, and Konka showcased their new display technologies in 8K, Mini LED, OLED and foldable screen. Gree, Galanz and iFLYTEK showcased their chip solutions for different segments. With the further application of technologies including AI, IoT, big data and cloud computing in the home appliance and consumer electronics industries, all exhibitors focused on displaying interactive, scenario-based, customized and IoT-powered smart interconnected life solutions.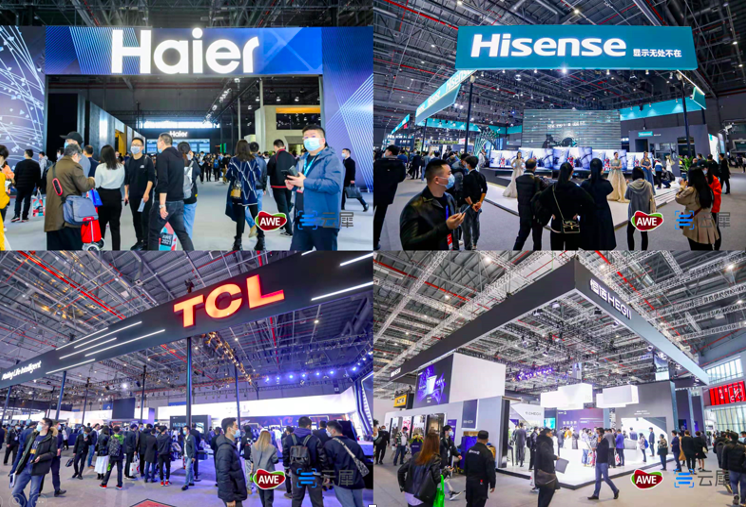 Haier Smart Home, with the largest display area among exhibitors as it always did, showcased its global first scenario-based brand "Three Winged Bird", which achieved an average price of CNY 220,000 per customer less than a year after its birth, at AWE2021. The "new living", defined by Haier Smart Home, covers the new kitchen, new bedroom, new bathroom, and new balcony, realizing the ecosystem-based services of active decision-making and active scenario provision.
Hisense unprecedentedly showcased its nine brands including Hisense, Ronshen, Kelon, Toshiba TV and Hitachi, presenting the achievements of its transformation from TV to display screen and the layout of smart industry ecosystems such as smart city, smart medical care and smart community. TCL focused on displaying its Lingxi C12 full series AI appliances that covered all scenarios, and it also showcased the advantages of the technology-enabled industry chain in its special exhibition area of "TCL's 40th Anniversary".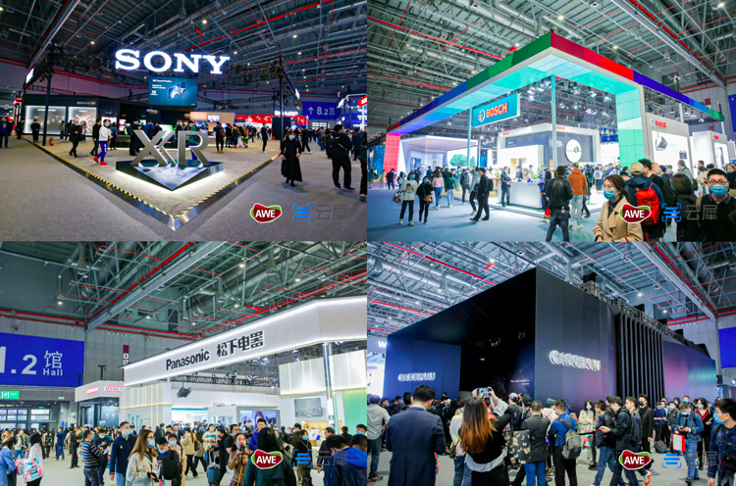 Aside from those mentioned above, thanks to the increasing influence of the exhibition on a global scale, international high-end home appliance brands such as Gaggenau and Miele, also made their debut at AWE. "They make it look like a museum. The queue at the booth is similar to that at the luxury store," said the media after visiting the Gaggenau's booth.
In addition to the achievements at exhibition areas of enterprises, at the 6-Year Achievement Release Conference of CHEAA CIC Project led by CHEAA, representatives from Haier Smart Home, XLINK and Tuya Smart shared the CIC standard promotion and its implementation cases. Jiang Feng, Executive President of CHEAA said, "Going forward, CHEAA will strengthen cross-industry cooperation among communications, real estate, intelligent home appliances and smart internet of vehicles according to CIC standard to develop CIC into a platform for openness and cooperation. We welcome more enterprises to join in the effort to identify a development path that enables broader-based interconnection together."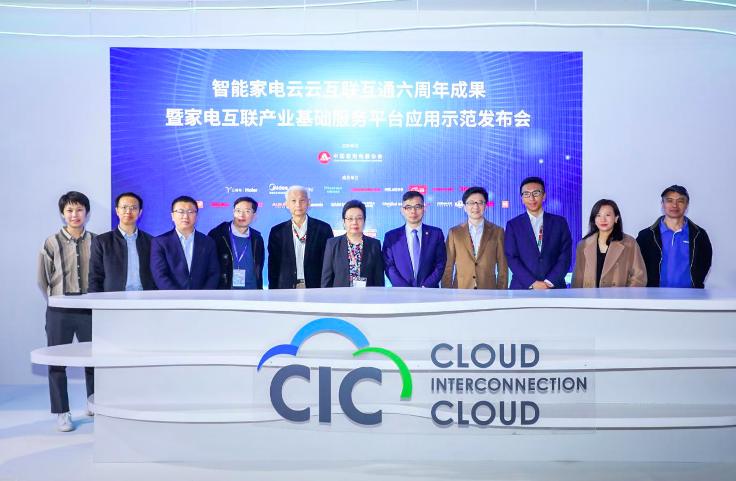 In addition to offline scenario setup and new product display, AWE2021 also focused on how to make better use of the closing time by exploring new, more integrated exhibition models and initiated AWE Live Stream Night Show. On the evening of March 23, the first day of AWE2021, AWE Live Stream Night Show was launched on Tmall, JD.com and Kuaishou with AWE exhibition booths as the background. Thanks to the wonderful display of participating enterprises, the live stream show was wrapped up in a more integrated and scenario-based way than those live stream shows hosted by internet celebrities. According to incomplete statistics, every enterprise participating in the AWE Live Stream Night Show attracted millions of viewers and tens of millions of comments on average.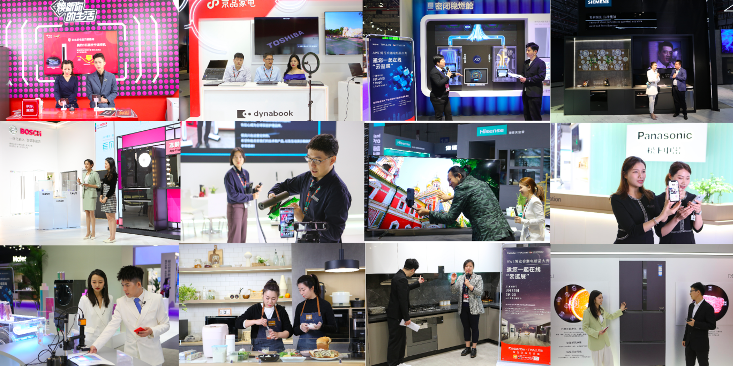 "Compared with previous live stream shows, the biggest difference of AWE Live Stream Night Show is that enterprises can display their brand value in an immersive way. That's because it enables a full display of brand power, product power and scenario solutions like an all-inclusive supermarket and can demonstrate to the public a brand's confidence and unique product power. For consumers, our AWE Live Stream Night Show also represents a fashionable lifestyle. Besides, consumers are not the only target audience. Distributors, channel dealers and partners throughout the industry chain can also get a full understanding of every enterprise's strength through the show", said Xu Dongsheng, Vice President of CHEAA, about AWE Live Stream Night Show's value.
Brilliant minds shared ideas at AWE's concurrent activities
After years of development, AWE is more than a show for innovative products and cutting-edge technology display. It has blossomed into a platform for brilliant minds from the home appliance and consumer electronics industry and supply chain and cross-industry experts to share ideas, compare notes, seek cooperation and conduct business negotiations.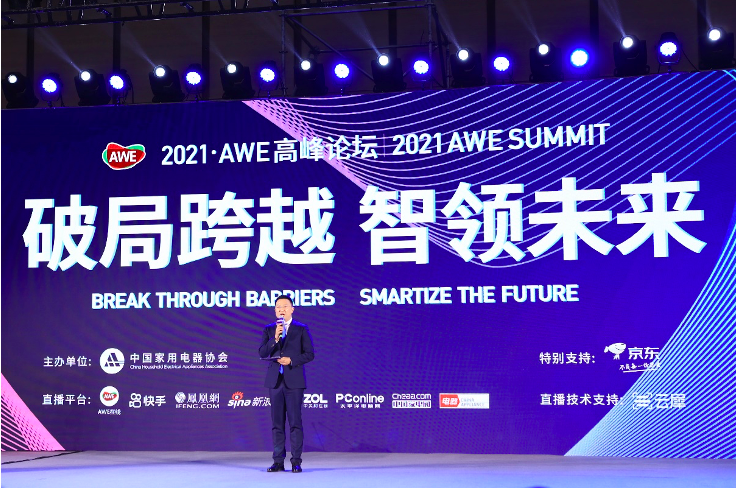 As a critical part of AWE's concurrent activities, China Home Appliance Development Summit has been officially renamed "AWE Summit". For this year, Li Huagang, Senior Vice President of Haier Group, Xie Fan, Vice President of JD Group and President of Home Appliance Division of JD.com, Wang Cheng, Chief Executive Officer of TCL Industries and TCL Electronics, Matthias Ginthum, Member of the Board of Management and Chief Markets Officer of BSH, and other brilliant minds from home appliance and consumer electronics industry, as well as Ma Guangyuan, renowned economist, and other experts and scholars were invited. They shared their insights on how to rise above the challenge, scale new heights and usher in an era defined by intelligent technologies from the perspectives of smart home, future home appliance retail trend and structure upgrading, the global development of home appliance enterprises, Chinese economy and future of home appliance industry. As far as Ma Guangyuan is concerned, the home appliance industry will remain the most noteworthy development opportunity and China's home appliance industry is in a position to turn challenges into opportunities that can drive a new round of development.
As AWE's another concurrent activity, AWE Award Ceremony hosted by AWE Organizing Committee is the most influential product awarding activity in China's home appliance and consumer electronics industry, and has been regarded as the indicator of China's home appliance and consumer electronics industry development trends. At this year's ceremony held on March 24, ten products won the Golden AWE Award.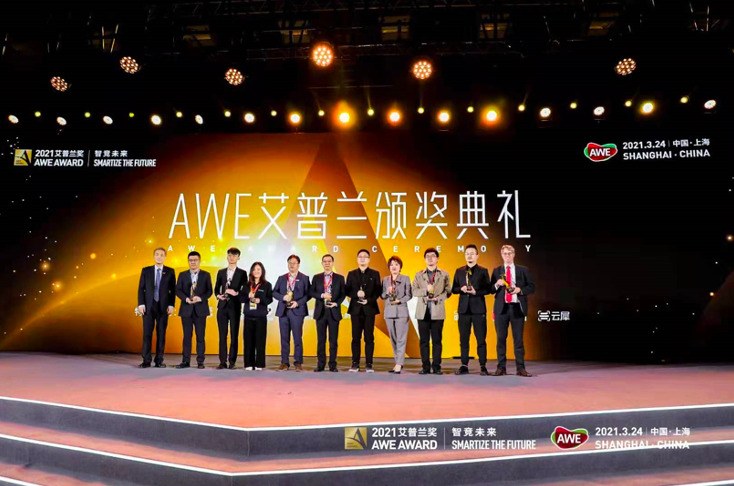 In conclusion, let's quote some remarks from CCTV about AWE2021, "Decades ago, Canton Fair was the only exhibition held in China. But now, all kinds of exhibitions can be seen in China. This change speaks volumes about the fact that China is providing a growing number of platforms and windows through which China can exchange with the world and the world can know more about China. Over forty years ago, China introduced the reform and opening-up policy, ushering the country in an era of rapid development. Now as COVID-19 still rages across the world, China will further open and work together with worldwide countries to weather the trying times and infuse confidence and momentum into global growth."