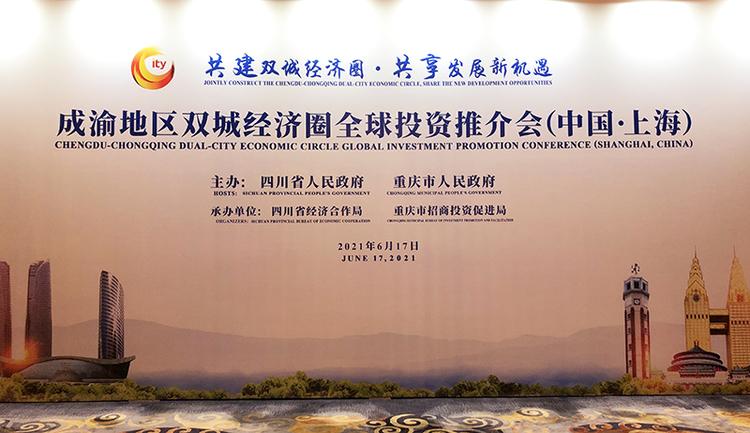 The site of the activity [Photo by Zhang Yashu]
Chengdu-Chongqing Economic Circle Global Investment Promotion Conference (Shanghai, China) was successfully held on June 17. With the theme "Jointly Construct the Chengdu-Chongqing Economic Circle, Share the New Development Opportunities", the conference shared investment opportunities with famous Chinese and foreign enterprises, business associations in the Yangtze River Delta region and consular agencies in Shanghai.
It is the first time that Sichuan and Chongqing have joined hands to carry out industrial investment promotion activities. Accordingly, Sichuan and Chongqing have good economic resilience, large investment space and convenient traffic. During the 14th Five-Year Plan period, Sichuan and Chongqing will jointly build world-class industrial clusters in electronic information, equipment manufacturing, consumer goods and high-quality liquor.
More than 100 well-known enterprises, business associations and consular agencies from different countries and regions such as United States, Japan, Korea, Singapore, Israel and Hong Kong SAR of China attended the conference, together with representatives from government departments of Sichuan Province and Chongqing Municipality for foreign affairs, development and reform, economic and information, economic cooperation(investment promotion), the offices of Sichuan and Chongqing in Shanghai and 16 cities (districts and counties) such as Luzhou, Suining, Wanzhou, Yubei and Changshou. Among which, there were 37 World's top 500, China's top 500, China's top 500 private enterprises.
Since the construction of Chengdu-Chongqing economic circle has become a national strategy, Sichuan and Chongqing have continually deepen their cooperation in industrial cooperation, project introduction and industrial park construction, etc. By May 2021, Sichuan and Chongqing have signed 248 agreements and build 10 adjacent parks together.