On the afternoon of July 7, the foreign ambassadors' spouses from various countries, together with other leaders and guests, witnessed the launch of the silk artwork The Dazzling World.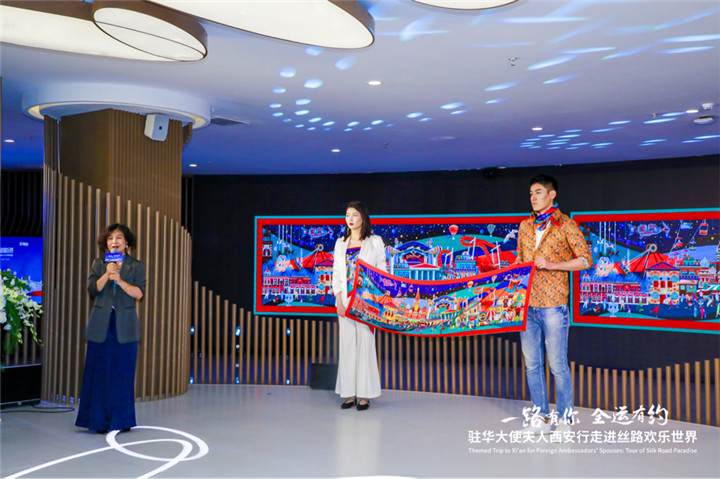 The debut
At the event, the designer Fan Yanyan whose work has been exhibited in UN Art Collection interpreted the design concepts of The Dazzling World. She noted that the name of the silk scarf summarized the connotations of its patterns and presented the charm of Silk Road Paradise.
The patterns of thrilling rides like dragon-shaped roller coaster highlighted the happy atmosphere. People wear fashionable clothes and enjoy their time in different blocks and scenarios, which shows the brand new and enjoyable urban life experiences of Silk Road Paradise from multiple perspectives.
In addition, the artwork showed appealing pictures of people having a good time with the "Four Treasures of the Qinling Mountains", namely the crested ibis, giant panda, takin and golden monkey.
The foreign ambassadors' spouses noted that the Silk Road has witnessed the integration of cultures. Silk scarves highlight culture, the invisible bond, and they will bring back home the fine artwork to let more learn about China and they will recommend Xi'an as the tourist destination to the people in their hometowns.