In the morning of November 16th, the 21st Conference on Overseas Chinese Pioneering and Developing in China opened in Wuhan, attended by over 500 domestic representatives and overseas guests from 52 countries and regions around the world. This year, the conference has negotiated 1,731 projects from China and abroad, with 120 projects reaching contract agreements for a total amount of 69.8592 billion yuan.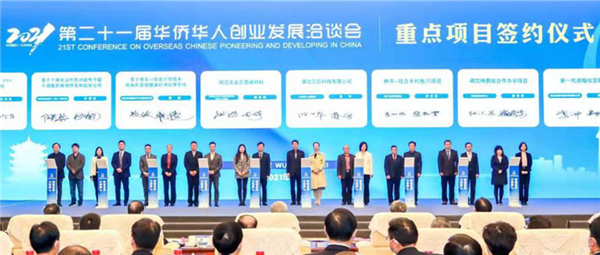 Key projects signing ceremony [Photo via the Organizing committee of the conference]
The theme of this year's conference is "Overseas Chinese Unit for a Connected World". It invited high-quality overseas Chinese professionals, representatives of high-level overseas Chinese businessmen and high-level foreign business associations. Representatives from Fortune 500 companies and foreign high-tech companies were also invited to the grand event that serves and unite overseas Chinese, strengthens Sino-foreign exchanges, and achieves win-win cooperation.
This conference closely follows major development strategies such as the technological innovation-driven development, high-quality economic development, dual-cycle development, and rural revitalization. In addition to the opening ceremony and the 8th "Hua Chuang Cup" Entrepreneurship Competition, Wuhan Forum, key projects signing ceremonies and 12 special events will also be held both online and offline.
According to statistics, since the first conference held in 2001, more than 20,000 overseas Chinese professionals, overseas Chinese businessmen and other representatives from 100 countries and regions have been invited to the conference. Its main venue has witnessed a total of more than 2,500 imported projects signed, with an investment amount of more than 490 billion yuan.The conference has become a well-known brand for the national overseas Chinese affairs system to attract talents and investment, and an important platform for the innovation and entrepreneurship of overseas Chinese.