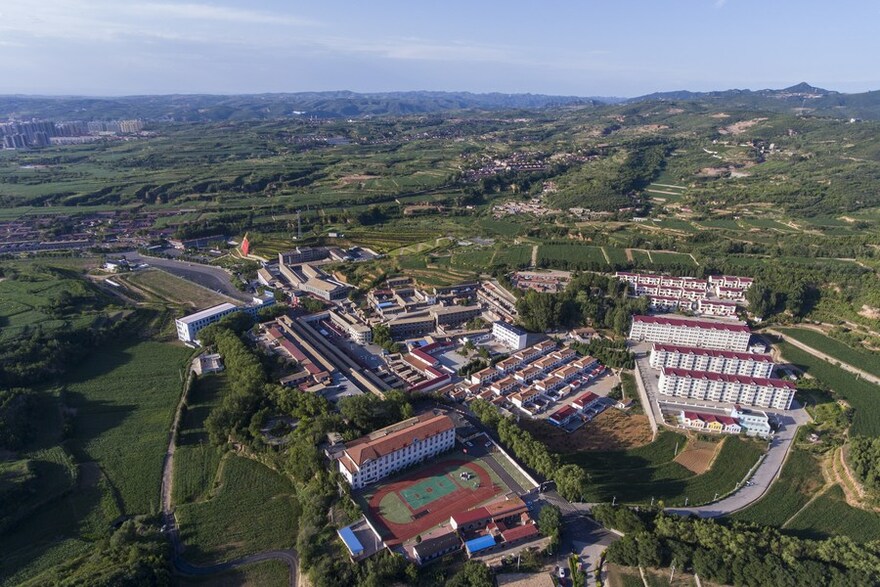 Aerial photo taken on July 1, 2021 shows a view of Dazhai Village of Jinzhong City, north China's Shanxi Province. (Xinhua/Yang Chenguang)
Yu Mingliang, a villager in Hengpo Village who performed temporary jobs for almost his entire life, now enjoys a stable income relying on the fast development of eco-tourism.
"Renting out farmland and house and being a cleaner at the ecological garden can bring me more than 30,000 yuan (about 4,617 U.S. dollars) per year," said Yu.
Hengpo Village, in north China's Shanxi Province, is an example of the successful transformation of a poor and barren land into a prosperous village that has developed tourism through afforestation.
Hengpo has planted more than 10,000 mu (about 667 hectares) of trees in the past decade. Meanwhile, well-preserved traditional cave dwellings in the village have attracted a 120-million-yuan investment from a local company for infrastructure upgrading since 2011.
"Our advantage is that we are only half an hour away from the ancient city of Pingyao, a UNESCO world heritage site. Many tourists come here to experience real country life after visiting there," said Guo Xingfeng, a village official. He added that Hengpo also launched a light show during the Spring Festival and summer vacations to attract tourists.
As of 2020, the village has received more than 1.8 million tourists from home and abroad, with a total income exceeding 36 million yuan. The per capita income of villagers has also increased from 15,000 yuan to 17,200 yuan since 2016.
Located in the world's largest loess area, Shanxi registered a forest coverage rate of only 2.4 percent in the 1950s when soil erosion and ecological fragility would take their toll.
As China pushes forward on a green and sustainable path, afforestation and returning farmland to the forest have been carried out nationwide. Thanks to continuous efforts, Shanxi's forest coverage rate has reached 23.18 percent by 2020, exceeding the national average.
More farmers are now devoted to eco-tourism as the ecological environment continues to improve. In Dazhai Village, about 200 km east of Hengpo Village, the younger generation that once pursued high incomes in big cities began to return to their hometowns.
With little land to farm, Dazhai was a mountain-locked and drought-prone village. In a bold attempt to overcome nature, locals began to open up mountains and fill ditches to build terraces, connecting scattered arable lands into layered belts by hillsides. Years of efforts made Dazhai a renowned model village in agriculture in the 1960s and 1970s.
"Making a living in mega-cities is no better than working in Dazhai," said Li Zhenjiang, 30, who had longed for the outside world and worked in Beijing after graduating from high school. But he felt his hometown was getting better each time he went back. Eventually, Li chose to stay and got a job with a local tourism company and is running two souvenir shops, with a yearly income of more than 100,000 yuan.
"Every household in Dazhai is a shareholder of the tourism company and receives a dividend of 3,000 yuan each year," said 73-year-old Guo Fenglian, who was reputed the "iron woman" for leading her fellows to fight harsh natural conditions to build terraces.
As a Chinese saying goes, if you want to get rich, build roads first. Shanxi is intensifying its infrastructure construction and plans to build a tour road of 13,024 km by the end of 2025. The road will connect the province's three major tourist attractions to form a tourist road network that runs through the whole province.
Songmiao Village is an ancient village along the tour road, with tourists expected to pour in for its pleasant climate.
"The occupancy rate during the Dragon Boat Festival was 100 percent, and the daily net income of the whole village reached more than 40,000 yuan," said Liu Xinpeng, a local official, adding that since the village opened to tourists one year ago, villagers' average yearly income has increased to nearly 12,000 yuan, and will rise continuously as the improvement of the village infrastructure.
"Tourism becomes a new way for farmers to beef up their income stably. We will continue to protect the ecological environment to ensure more people could benefit from it," said Liu.