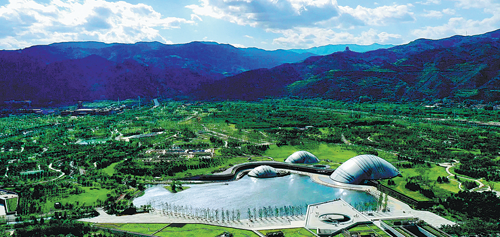 The Taiyuan Botanical Garden Domes wins the 2021 Structural Awards for its innovative construction. [Photo by Gao Qixiang for China Daily]
Domes in Taiyuan Botanical Garden the winner of an international award
The Taiyuan Botanical Garden Domes in the city of Taiyuan, capital of North China's Shanxi province, were recently announced the winner of the 2021 Structural Awards, the world's leading awards for structural engineering excellence, by the Institution of Structural Engineers based in the United Kingdom.
The award was granted for its structural design and innovative construction, according to the institution's announcement on Nov 12.
The award is not only a confirmation of the domes' unique aesthetics in design, but also an endorsement of the environmental value that the project upholds.
Designed by the Arcplus Institute of Shanghai Architectural Design &Research, the award-winning project is a greenhouse complex for floral exhibitions and features three dew-shaped domes by the Jinyang Lake.
It is the first large-scale exhibition greenhouse with a glue-laminated timber structure in China, as well as the largest span structure of its kind in the country.
The project was launched with the ambitious objective of transforming a former coal-mining area into a park, which is not only a model of landscape design, but also contains building infrastructure that can be used for research and offers people access to information about natural ecosystems.
The judges of the 2021 Structural Awards said the project's target in land restoration and the choice of environmentally friendly materials "create a harmony between nature, architecture and structure".
The Taiyuan Botanical Garden is only one example of the burgeoning green construction in Shanxi, which involves the concept of low-carbon-emission, energy and resources-conserving materials and technologies.
The Xiaohe International Convention and Exhibition Center, which is under construction in the south of Taiyuan, is another example of the use of green construction technologies and materials in Shanxi.
According to its design blueprint, the project will use about 70,000 square meters of solar panels on its roofs, which is expected to power lighting in an area of more than 650,000 sq m, as well as power its electric vehicle charging stations, according to Li Weijun, a technical executive at the Shanxi Construction Investment Group, the builder of the project.
Du Yanzhe, deputy chief engineer at the Shanxi Institute of Architectural Design and Research, the designer of the project, said the rooftop solar panels can generate about 8.4 million kilowatt-hours of electricity a year, meaning the saving of 2,600 metric tons of coal.
Xiaohe New City, where the Xiaohe International Convention and Exhibition Center is located, is one of the province's test grounds for green construction.
An innovative solution offered by local building material manufacturers is that structures can be assembled, instead of being built.
At Shanxi Construction Industry's manufacturing plant in Xiaohe, building elements including steel columns, beams and building blocks are manufactured and roll off its intelligent and automated production line.
These building elements are ready to be delivered to various sites in Xiaohe New City, as well as the rest of Shanxi, allowing structures to be assembled and completed at an astonishing speed and efficiency.
Buildings constructed this way are called assembled structures.
Compared with conventional ways of construction, assembled structures feature greater efficiency, save labor and resources, and promote better safety, according to Zheng Ligang, chief engineer at Shanxi Construction Industry.
"As building elements are manufactured in plants with smart, automated production facilities, the use of raw materials and other resources can be minimized," Zheng said. "And the assembly process at construction sites substantially reduces the use of sand, bricks and concrete, leading to a decrease in solid waste."
He added that many of the building elements can be recycled after the life cycle of a building expires. Thus assembled structures can offer a solution to the challenging task of solid waste disposal after tearing down outdated buildings.
Compared with conventionally built structures, Zheng estimated that assembled structures can lead to a 60 percent reduction in construction time, save 60 percent of human labor, reduce 80 percent of waste and about 90 percent of the building materials can be recycled.
Datong Future Energy Exhibition Hall, located in the northern Shanxi city of Datong, has adopted the similar green approach as the Xiaohe International Convention and Exhibition Center in Taiyuan.
It also features solar panels on its roofs and the use of energy-saving materials and emission-reducing technologies.
Wu Yanli, chief designer of the project, said the rooftop solar panels, plus walling materials with high performance in heat insulation, can lead to a 92 percent reduction in energy use compared with other buildings of a similar size.
Backing the green construction industry's development are local universities and research institutions like Taiyuan University of Technology.
The civil engineering department of Taiyuan University of Technology has launched a smart green construction research program, aiming to train professionals and develop technologies and solutions for this emerging industry, according to Liu Yuanzhen, chief of the department.
Shanxi's authorities are optimistic about the industry's potential in the years to come.
According to a provincial action plan for green construction, the industry is expected to account for about 70 percent of all newly completed structures in 2022. The floor space of assemble structures is projected to reach 6 million sq m in the same year.
Wu Jia contributed to this story.