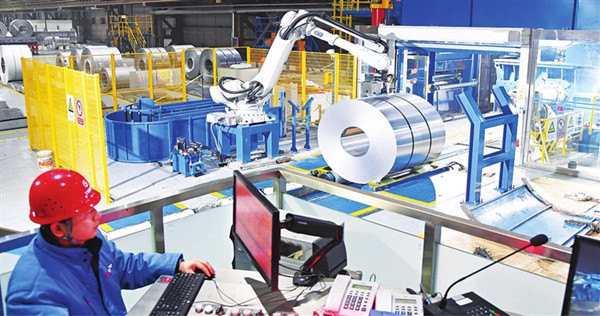 A worker at Taiyuan Iron & Steel (Group) Co in Taiyuan operates a manufacturing robot, Nov 16. [Photo/Taiyuan Daily]
Taiyuan's 13 enterprise technical centers were recently recognized as provincial-level enterprise technical centers in North China's Shanxi province, according to the Shanxi Department of Industry and Information Technology on Dec 15.
The centers belong to enterprises engaged in aviation, digital economy, trade, pharmaceutical, construction, transportation, new energy, engineering, clinical examination, materials and machinery.
Prior to the recognition, Taiyuan was home to 267 national, provincial, and municipal-level enterprise tech centers. The city's national-level enterprise tech centers and manufacturing innovation centers accounted for 60 percent of the province's total.
Over the past three years, through enterprise tech innovation, Taiyuan has achieved 64 major product breakthroughs, with seven products having won national awards and 26 products having eliminated domestic shortcomings in specific fields.