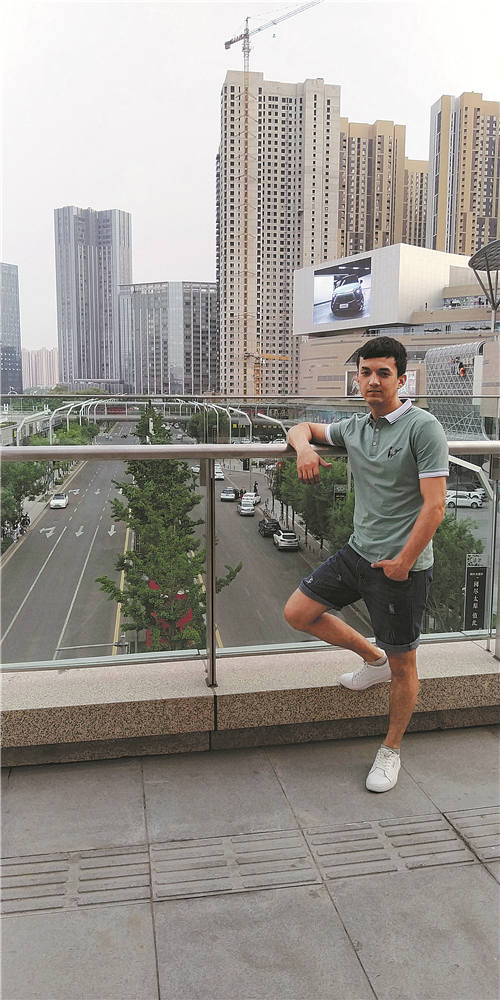 Many overseas students in Shanxi province have gained a better understanding of the province and China. This section, named Shanxi in the Eyes of Foreign Students, will tell their stories in the province and share what Shanxi looks like from their perspectives, giving accounts of the local environment, customs and culture, as well as their personal experiences.
I came to Taiyuan, capital of Shanxi province, in October 2018, when I was admitted to Shanxi University as an international student from Uzbekistan.
There are a number of reasons why I chose China to pursue my higher education, including China's status as an emerging powerhouse of the world economy, a leader in trade and e-commerce, its globally recognized quality in education, incentives to international students and its internationally accepted diplomas.
As China is one of the major trading partners of Uzbekistan, I believe my study in China will offer me huge opportunities for career development.
I personally have a strong interest in Chinese culture and history. That's why I chose Shanxi as my destination to stay.
With a recorded history of more than 3,000 years, Shanxi is one of the cradles of ancient Chinese civilization.
Called "a museum of ancient Chinese culture", the province is home to a large number of relics and remains of former times, which give us sufficient material evidence to study ancient cultures.
Such historical sites have also become major tourist attractions in Shanxi, including the former residences of the famed Shanxi merchants, the Buddhist holy land of Wutai Mountains, the Buddhist cave art treasure house of Yungang Grottoes, the wooden pagoda in Yingxian county and the ancient streets in Pingyao county.
In Taiyuan, there is a nationally renowned museum that hosts a great number of historical relics, with some that can be traced to prehistoric periods.
So my stay in Shanxi and my trips in Taiyuan and throughout the province have helped me develop a stronger fondness of ancient Chinese culture.
I am also proud of my university because of its history and its open, international vision in education.
This year marks the 119th anniversary of the founding of Shanxi University. In its early years, the university was among the three earliest State-run universities in offering modern Chinese education.
Today's Shanxi University has developed into a modern higher-learning institution with a global vision, which is reflected in its great number of international students, and a curriculum system and research capability up to international standards.
When I came here in 2018, I thought it might be hard to adapt to local life and culture, and learning Chinese might be a major challenge to my academic development.
But I found I was able to solve all those problems quickly because of the help of my teachers and friends.
I must give my special thanks to my Chinese friend Wang Xinyue. It was Wang that suggested I go beyond the campus to experience local life. She has arranged a number of tours for international students to see what the life, culture and nature look like in Shanxi.
I think the heartfelt help from my friends and teachers is a major reason for my growing fondness of China.
The author is a student from Uzbekistan, who studies at the School of International Education and Exchange at Shanxi University.
(This news was first posted on October 27, 2021)