There goes such an old saying in Taiyuan: "One who hasn't eaten Liuweizhai foods hasn't truly come to Taiyuan". Why are Taiyuan people so fond of Liuweizhai? The answer lies in their words: "This taste is our favorite!".
Liuweizhai of Taiyuan City is a time-honored Chinese brand founded in the third year of Emperor Qianlong's governance of the Qing Dynasty (1738). The sauced meat it produces, once renowned as a tribute to the imperial palace, is a famous food in Shanxi Province. Liuweizhai braised pork with sauce is characterized by "fat but not greasy, lean but not insipid". To maintain its traditional characteristics, Liuweizhai still uses techniques that have been inherited over more than 200 years, and the production process from material selecting to cutting and cooking is carried out in accordance with traditional methods.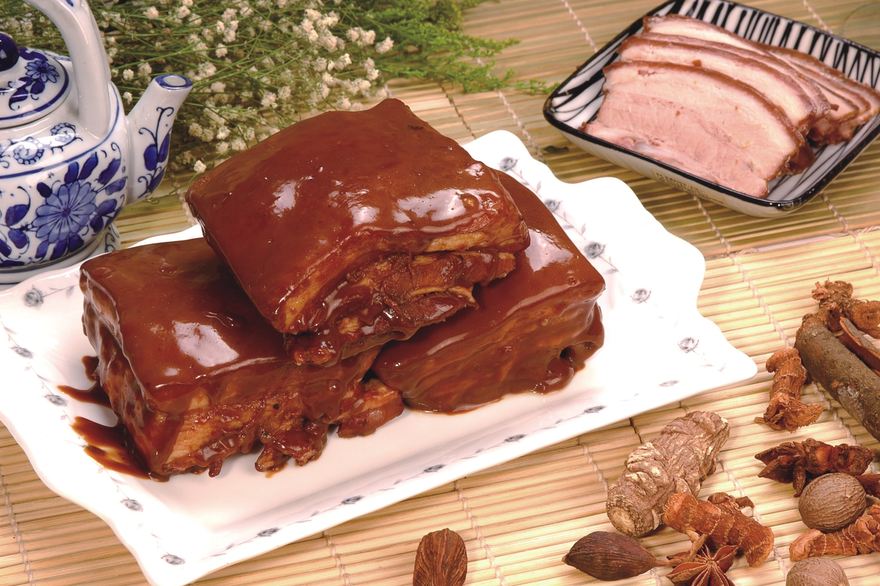 Liuweizhai braised pork with sauce [Photo via the Publicity Department of the CPC Taiyuan Municipal Committee]
The traditional recipe for Liuweizhai uses dozens of traditional Chinese medicinal ingredients and it is slowly stewed over a slow fire, making it very nutritious. According to laboratory tests, Liuweizhai braised pork with sauce was found that saturated fatty acids are reduced by 30 to 50 percent, while cholesterol is reduced by more than 50 percent. Liuweizhai braised pork with sauce should be slowly stewed for more than 6 hours. It has excellent color, wonderful smell, as well as soft and delicious taste, preserving the original flavor of traditional food and winning the love of the majority of consumers. In 2011, the traditional production techniques of Liuweizhai braised pork with sauce was rated as the National Intangible Cultural Heritage.
Taiyuan people have a special fondness for Liuweizhai. On the New Year's Day or other festivals, Liuweizhai braised pork with sauce is always a delicious dish on the tables of Taiyuan people.