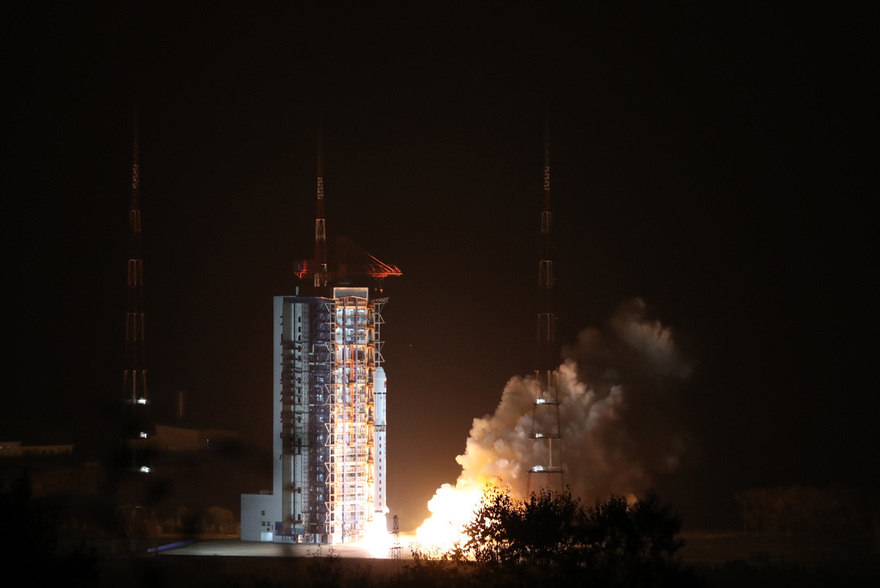 A Long March-2D rocket carrying China's first solar exploration satellite blasts off from the Taiyuan Satellite Launch Center in North China's Shanxi province, Oct 14, 2021. [Photo/Xinhua]
As many notable scientists and engineers are members of the National Committee of the Chinese People's Political Consultative Conference, China's top political advisory body, the organization has proactively contributed to China's scientific policies and development.
Guo Weimin, spokesman for the fifth session of the 13th National Committee of the CPPCC, said during a news conference on Thursday that China has made numerous major scientific achievements from exploring the grand universe to probing the microscopic world of cells and particles.
Some notable feats in space exploration include the Chang'e lunar missions, Tianwen-1 Mars mission and Xihe solar observation satellite, he said.
Breakthroughs in quantum information technologies and stem cell research have also pushed the boundary of science.
However, China is also acutely aware of its shortcomings, such as bottleneck issues in core technologies, Guo said. Therefore, the CPPCC National Committee has organized its members, many of whom are prominent scientists in their fields, to find solutions for these problems.
Some of these suggestions highlighted the importance of balancing the relationship between government and market while allocating resources for innovation, the need to nurture and support young talent and how China should actively integrate into the global innovation network, Guo said.
"These are very nice suggestions," he said. "Some of them have been adopted by relevant government agencies and have played a positive role in their work."