The North China province of Shanxi has embraced a boom in investment as it recently saw the signing of agreements, construction and operations of a great number of projects funded by domestic and overseas businesses.
On Feb 26, ceremonies were held in various development zones and industrial parks in Shanxi, for the collective signing of 347 investment projects. The ceremonies also marked the construction of 323 projects and the operation of 315 ones.
Such projects have covered a wide range of industries, including coal-based chemicals, equipment manufacturing, new energy, new materials, environmental protection, big data, medicine, modern services, modern agriculture and cultural tourism.
The development zones in the city of Jinzhong are among the pinnacles of attracting investments.
According to Wu Junqing, Party secretary of Jinzhong, the city's development zones signed agreements with investors on 27 projects, with funding totaling 10.69 billion yuan ($1.69 billion).
"I was told that these projects can generate a combined annual output value of 13.2 billion yuan, once they are operational," Wu said.
That day also witnessed the construction of 24 projects with combined investment of 4.15 billion yuan and the operation of 28 projects with total investment of 2.68 billion yuan.
"We are glad to see that 46 of these 79 projects mentioned, or 58.2 percent, are related to strategic emerging industries such as new materials, new energy, modern logistics, biomedicine, advanced equipment manufacturing and digital economy, which are expected to grow into new drivers of our economic growth," Wu said.
Another eye-catching city is Yuncheng in the south of Shanxi. Its development zones and industrial parks secured 67 projects, with investment totaling 9.2 billion yuan. The city also saw the groundbreaking of 71 projects and the operation of 69 projects.
Changzhi, a city in the southeast of Shanxi, which ranked first in Shanxi by the number of investment project launches last year, is still in a leading position in attracting investors.
Changzhi saw the launch of 1,807 investment projects last year and this time it secured 34 new investment projects with funding totaling 12.47 billion yuan.
Yang Qinrong, Party secretary of Changzhi, said he is happy to see that the city has attracted a number of projects in some cutting-edge areas, including an electric vehicle battery project, a hydrogen production plant and a big data project.
Lin Wu, Party secretary of Shanxi, who presided over the project signing ceremony in the Shanxi Transformation and Comprehensive Reform Demonstration Zone in Taiyuan, required all the development zones and industrial parks to try their best to attract investors.
"Development zones and industrial parks are the main drivers for Shanxi's growth," Lin said. "Their performance in investment promotion and project launches will be crucial for the province to fulfill its economic growth targets."
He encouraged the zones' and parks' officials to further innovate and improve their services, creating a favorable business environment for entrepreneurs.
Wu Jia contributed to this story.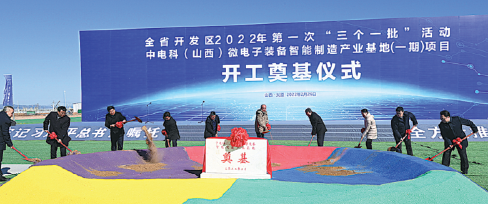 Shanxi's officials and business representatives break ground for a microelectronic equipment manufacturing project funded by China Electronics Technology Group. SHI XIAOBO/FOR CHINA DAILY