"Daka China 2022-Exploring Magnificent Landmarks in Jiangsu" and "Experiencing Culture Along Huaiyang Canal" Online International Communication Events were held in Huai'an, East China's Jiangsu Province, from August 2 to 5. The events were organized by CRI Online of China Media Group and Cyberspace Administration of Jiangsu, and hosted by Cyberspace Administration of Huai'an and Huai'an City Broadcast-Television Station.
Foreign Internet influencers from Georgia, Guatemala, Pakistan, Egypt, Venezuela and other countries were invited to Huai'an to record the stories behind the city, which is known as the hometown of great men, the city of canals, the city of gastronomy, and a city with abundant cultural connotations, with their videos, photos and words. After the four-day trip, the influencers managed to find answers to the question, "What makes Huai'an stand out among other cities along the Grand Canal that stretches for about three thousand kilometers?"
Experiencing time-honored culture and appreciating beautiful scenery along Huaiyang Canal
The Grand Canal is regarded as the "mother river" of Huai'an. The Grand Canal and the people of Huai'an have been interdependent to each other for over two thousand years. Huai'an Water Interchange Junction, located at the intersection of the Grand Canal and Huai River, is the biggest water interchange junction in Asia. Venezuelan vlogger Rafael shared the spectacular view with his followers via livestream after mounting the water interchange junction, "You can see wonderful rivers behind me and lots of greenery. There is also a magnificent bridge, which people can pass through."
In order to revive the time-honored cultural heritage of the Grand Canal, Huai'an is striving to recreate the prosperity of the city of canals in ancient times through cultural and tourism projects built along the canal. A cultural corridor has been formed on the banks of Huaiyang Canal, where people can relax themselves by watching folk performances, appreciating traditional artistic works and tasting local snacks. Foreign influencers enjoyed the beauty of nighttime Huaiyang Canal on a cruise tour in their trip.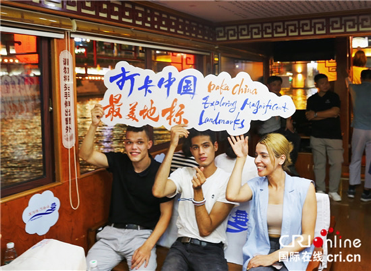 Foreign influencers take a cruise tour of Huaiyang Canal at night. [Photo by Yang Hongze]
Tasting delicious Huaiyang Cuisine
Huai'an, a city that was born and nourished by water, is the birthplace of Huaiyang cuisine, one of the four great traditional Chinese cuisines.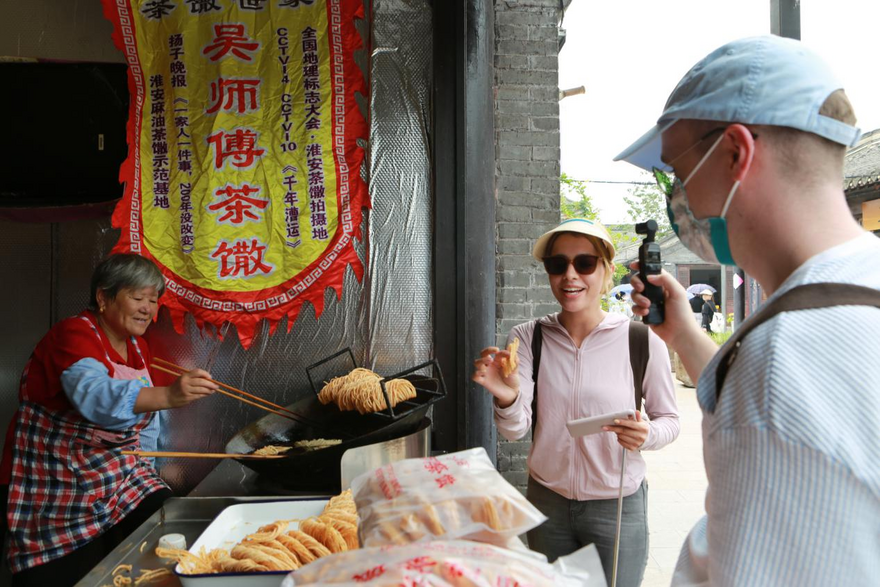 Foreign influencers observe the cooking process of Chasan at Hexia Ancient Town. [Photo by Liu Zhijun]
Huaiyang Cuisine accompanies the foreign influencers through the whole trip. In Hexia Ancient Town, the influencers learned about the skills of making Chasan, a traditional snack in Huai'an, visited the traditional manual workshop for brewing soy sauce, and tried to make crab-roe soup dumplings by themselves. In addition, they tasted the authentic eel noodles in Sun's Noodle House.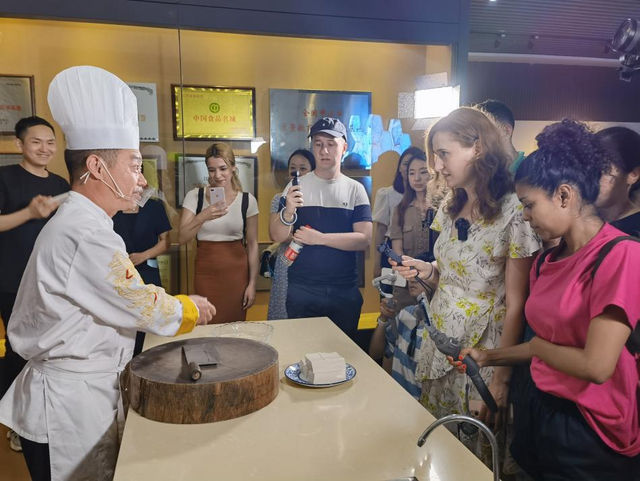 Influencers observe the cooking process of Pingqiao Tofu at China Huaiyang Cuisine Cultural Museum. [Photo by Tang Wei]
Apart from the ancient town of Huai'an, other small towns along the Grand Canal also play significant roles in inheriting and innovating Huaiyang Cuisine.
Xuyi County, located in the south of Huai'an, is named "Hometown of Crayfishes in China". "I heard that Huai'an is 'a city that floats on the water' before I came here. I don't really understand the sentence until today. Huai'an is not only a city nourished by the canal culture. Even the representative food here, like crayfishes, is closely related to water." Tao Man, an Internet influencer from Georgia, said at Xuyi Crayfish Breeding Base.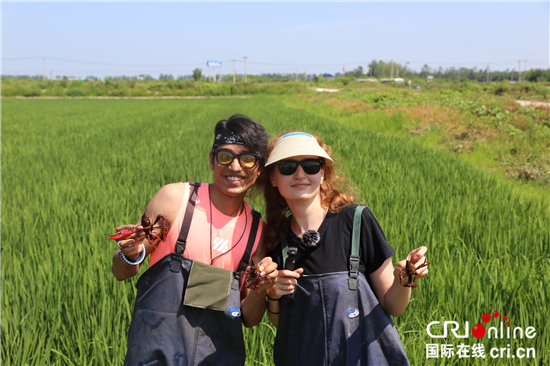 Foreign influencers take photos with the crayfishes they caught. [Photo by Yang Hongze]
Huai'an welcomes visitors worldwide with its splendid beauty
With a history of over 2100 years, Huai'an has cultivated a great number of great men.
It is hometown of Wu Cheng'en, the author of The Journey to the West. At Former Residence of Wu Cheng'en, Huang Meifeng from Indonesia found it hard to hide her excitement. She said she watched the TV series The Journey to the West when she was a child, and the naughty monkey, Sun Wukong, impressed her very much. "I never expected to come to the birthplace of Monkey King one day. Unbelievable!"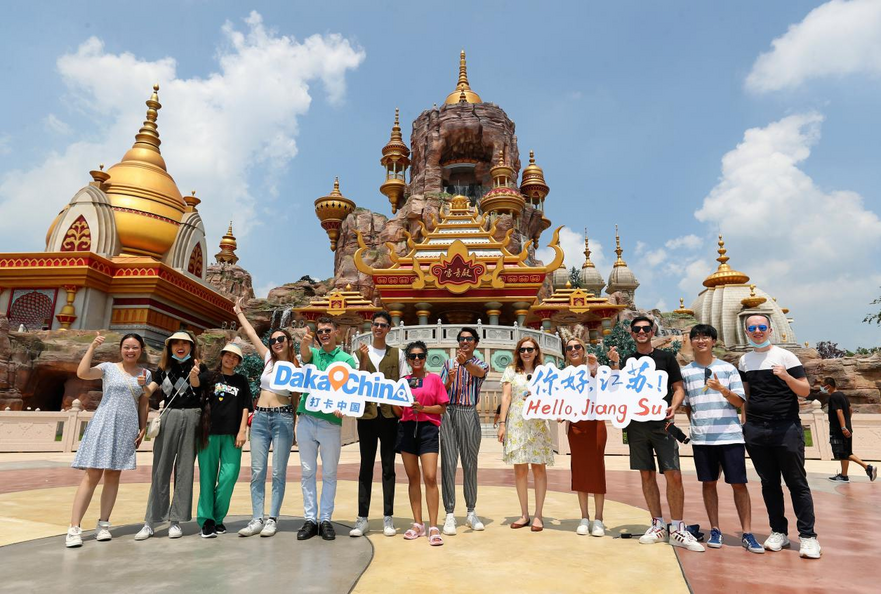 Foreign influencers visit Xiyou World of Adventure in Huai'an. [Photo by Liu Zhijun]
At Zhou Enlai Memorial Hall, the story of the former Chinese premier, who fought all his life for the development of his country, touched all the foreign influencers. The Egyptian vlogger Liu Zhengxi observed everything carefully. "Zhou Enlai is an alumnus of Nankai University, which is also my Alma Mater. I learned about his life experience here, which touched and inspired me." said Liu.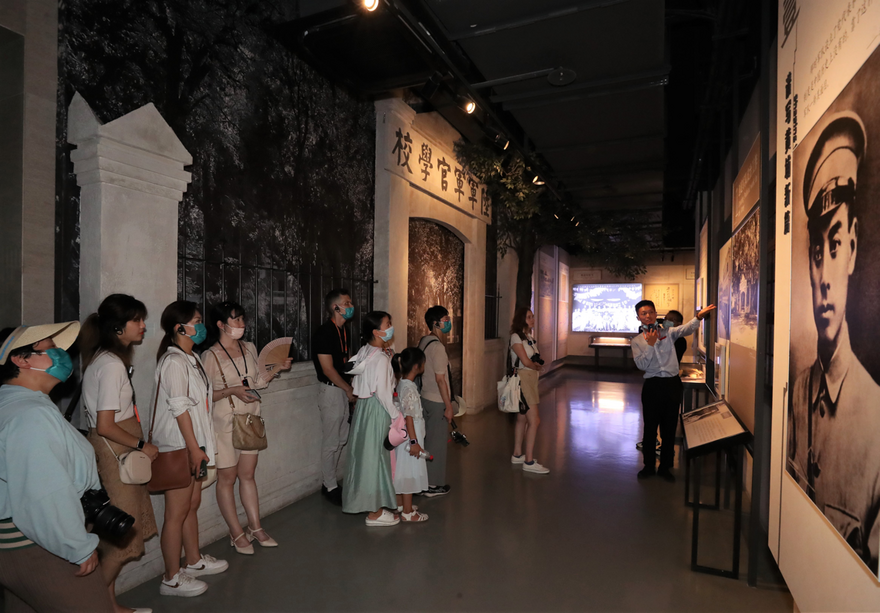 Foreign influencers visit Zhou Enlai Memorial Hall.[Photo by Liu Zhijun]
Under the theme of "Grand Canal Culture", Huai'an presented a "sincere" city to foreign influencers in the four days. There is long-standing canal culture, broad and profound food stories, confident and tolerant citizens, and happy and beautiful city life. "I have made many friends in Huai'an these days. I have a deeper understanding of the canal culture, the Xiyou culture, and the food culture of Huai'an." Wen Wen from Turkmenistan said. She couldn't help recommending this lovely city to others, "Beautiful, delicious and interesting, Huai'an is worth visiting!"