Video produced by Yu Silang
Wuhan stands by the Yangtze River with many lakes dotting the city. Its locals have an unstoppable affection for water.
Wuhan is renowned as the "City of River" and the "City of A Hundred Lakes". The Yangtze River and the Han River converge here, and 166 urban lakes embellish the city, forming the city's basic layout characterized by "two rivers and four banks" and "integration of mountains and rivers".
Wuhan is a city where rivers and lakes meet, with several river ports scattered within it. With a unique river city style, Wuhan ranks among the top three inland cities in the world in terms of wetland resources, and is the provincial capital city with the largest number of national wetland parks in China.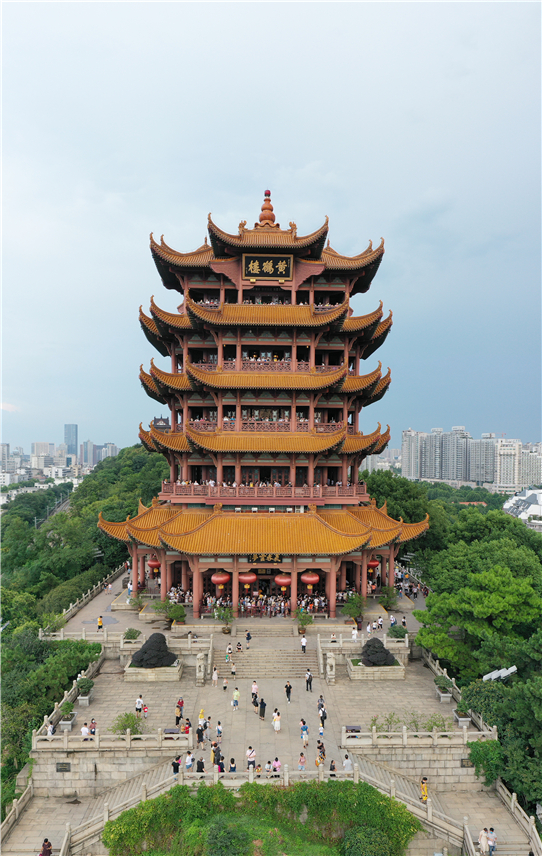 The Yellow Crane Tower [Photo by Ma Zhangchi]
With the flowing Yangtze River and the rippling lakes, this place of pleasure, boasting its clean water and lush banks, has become a common source of pride of Wuhan people. Among the 166 lakes in Wuhan, the East Lake is loved by tourists for its magnificent and boundless momentum.
This city of river and lakes is connected as a whole by many famous bridges, such as Wuhan Yangtze River Bridge, the first bridge of the grand Yangtze River, Yangsi Port Yangtze River Bridge, the world's largest-spanning double-deck suspension bridge, Qingshan Yangtze River Bridge, the world's largest-spanning cable-stayed bridge with full floating system...together forming a spectacular skyline of Wuhan.
Only when you are in Wuhan can you feel the locals' love for the Yangtze River and lakes. This riverside city has grown up to be a unique eco-tourism destination in China.