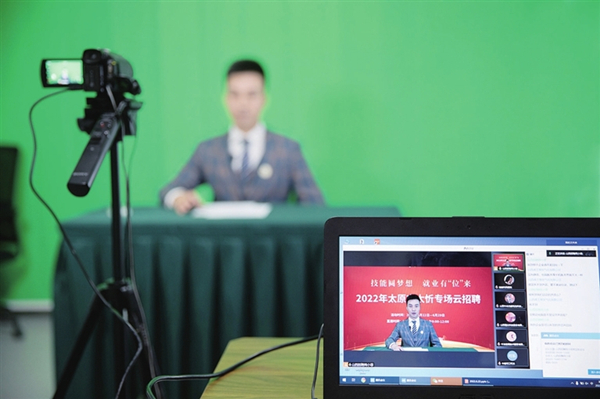 A livestream introducing jobs in Taiyuan-Xinzhou Integrated Economic Zone is held in Taiyuan, attracting tens of thousands of viewers. [Photo/Taiyuan Daily]
A series of employment and entrepreneurship measures in Taiyuan, capital of North China's Shanxi province, has promoted stable employment and independent entrepreneurship in the city and served local high-quality development.
The city has issued 30 policies to promote employment and entrepreneurship among college graduates at the end of June, such as offering free entrepreneurship spaces and computers, as well as providing them with one year of free rental housing.
Since the beginning of this year, the Taiyuan human resources and social security department has created 3,055 internship positions and provided employment and entrepreneurship subsidies worth CNY 34.9 million ($4.85 million) to 34,900 disadvantaged students who graduated in 2022 from 65 colleges and universities.
Local public employment service agencies have carried out online recruitment, policy promotion and livestreaming events to employ more graduates. For example, the city has provided some 10,000 positions to 13,500 job seekers through 31 livestreaming events at 34 venues in four local counties.
More than 250 job fairs have been held, providing more than 310,000 positions and effectively promoting employment among various groups of people in the city.
Taiyuan has also helped startups through various means. From January to July, it verified that 561 people qualified for personal entrepreneurial guarantee loans and recommended 225 people for small and micro-sized enterprise entrepreneurial guarantee loans, and assisted 808 people in finding employment through entrepreneurship. The one-time subsidy for people who start their own business for the first time has increased to 5,000 yuan since Jan 30.
To improve entrepreneurship services, Taiyuan selected an additional 50 experts this year, bringing the total number of entrepreneurship experts to 140. The experts can provide better professional guidance, training, and project promotion services for startups.
In addition, the city's primary employment service network has been gradually improved. Among the 758 communities, 663 have established labor security offices and workstations, while other employment service stations are currently in construction in 102 towns, townships and sub-districts.
As of the end of July, the number of newly-employed people in the city was 58,497, 73.12 percent of the annual target, while 182,099 farmers found employment, 95 percent of the annual target.