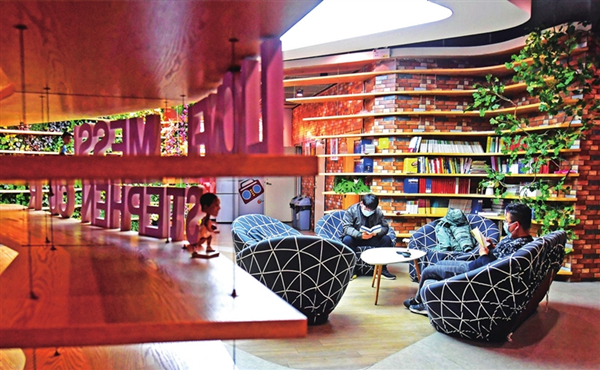 Talent read books in a reading area of a talent apartment building in Yingze district, Taiyuan. [Photo from Taiyuan Evening News]
Taiyuan, capital of North China's Shanxi province, has seen rapid growth in the number of talent teams in the city as well as an innovation boom in recent years.
The total amount of talent in Taiyuan increased to 900,000 in 2021 from 386,000 in 2009.
Over the past 10 years, 74 academician workstations and 16 national major talent engineering expert workstations have been established in the city, 385 academicians, talent teams, and experts have been introduced, and 2,177 skilled workers have been trained.
Seven of the city's products won national awards, 29 products helped to fill in gaps in the domestic industry, 67 new products were labeled major breakthroughs, 382 innovations were patented, and 42,000 innovations were leveraged to create tangible economic benefits worth 2.8 billion yuan ($393.61 million).
These strong results were possible due to the local optimization of the talent growth system and environment.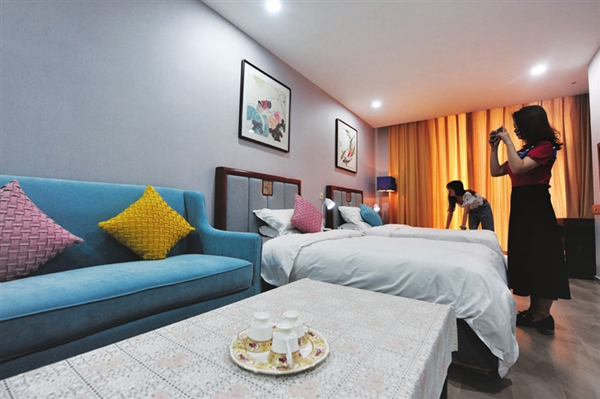 Graduates check talent apartments in Xiaodian district, Taiyuan, Sept 15. [Photo from Taiyuan Daily]
Taiyuan has improved the salaries, working conditions and development environment for its talent.
In 2018, it relaxed household registration rules so that the families of talent can more easily move to the city with them, and subsidies have been issued for the introduction of talent. The city has invested 1.02 billion yuan in building more than 700 municipal talent apartments and established a housing security system for talent. Interest-free discount guarantee loans of up to 3 million yuan have been offered to talent looking to start their own businesses.
To date, the city has attracted over 110,000 talents and their families, issued 75,000 talent subsidies worth 1.12 billion yuan, and over 34,000 people from more than 100 colleges and universities have come to work and start their own businesses in the city.
Taiyuan has also introduced 15 so-called "top talent" and 121 "high-level talent", and appointed 60 experts and scholars to the think tank of the municipal Party committee. It has also established Taiyuan-born student workstations in 42 domestic colleges and universities, introducing some 5,000 high-level talent with a master's degree or above to the city and 1,145 graduate students to work in 1,130 villages and communities in the city.
In addition, Taiyuan has been focusing on the cultivation of talent. It has built 344 studios for outstanding individuals in the education, health, publicity, agriculture and social work sectors, 108 key laboratories at the provincial level or above, and 100 provincial engineering technology research centers. Sixty-four well-known universities have set up high-quality student cultivation centers in the city.