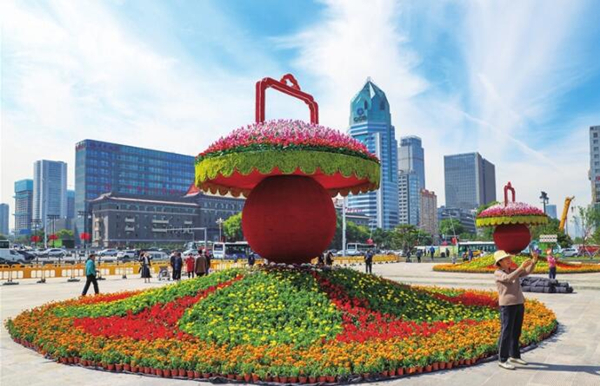 A landscape flower bed in the shape of a flower basket is set up in Wuyi Square in Taiyuan on Sept 24. [Photo from Taiyuan Evening News]
Taiyuan, capital of North China's Shanxi province, had created a festive mood with flower decorations across the city to welcome the National Day holiday on Oct 1-7.
This year's festive decorations consist of landscape flower bed arrangements at major road intersections, flower arrangements along main roads in the city, and the 32nd chrysanthemum exhibition of the city, according to Cao Xiaoning, a staff member of the Taiyuan garden and forestry bureau.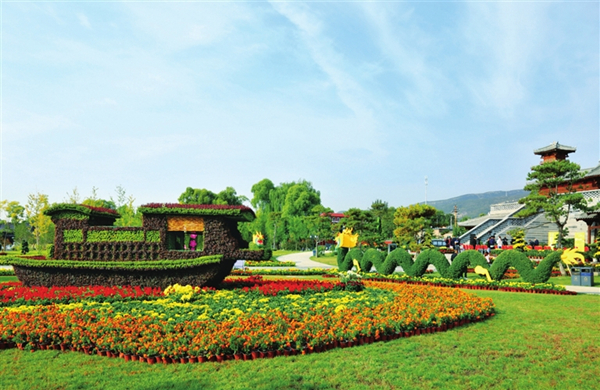 Various flower decorations are set up in Jinci Park to welcome National Day holiday. [Photo from Taiyuan Evening News]
The city set up three groups of landscape flower beds at the entrance of Wuyi Square and Moyi Garden east of the Yingze Bridge to mark the 73rd Anniversary of the Founding of the People's Republic of China.
The landscape flower arrangement in each urban district was mainly based on ground planted flowers, with 28 groups of landscape flower beds, more than 500 flower bowls, over 4,000 flower boxes, and more than 1.6 million potted flowers set up.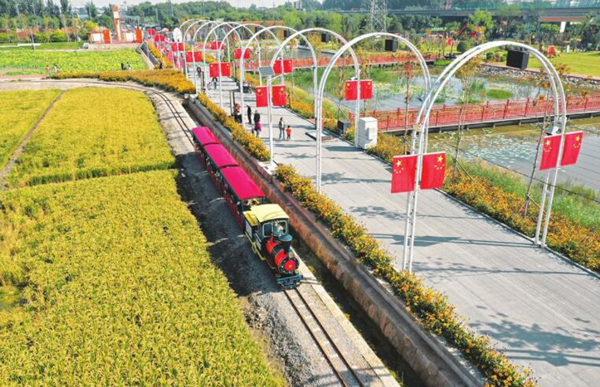 Flags are hung along a road in Jinyuan district, Taiyuan to welcome National Day holiday on Oct 1-7. [Photo from Shanxi Daily]
The main venue of the chrysanthemum exhibition was located in the Twin Towers Park, where various chrysanthemum varieties over an area of about 7,000 square meters and over 2 million pots were on display for about a month.
The sub-venue of the exhibition in Yingze Park highlighted the new media art exhibition area at the south gate of the park, where laser equipment projected 100-meter-long images of chrysanthemum varieties on the road.