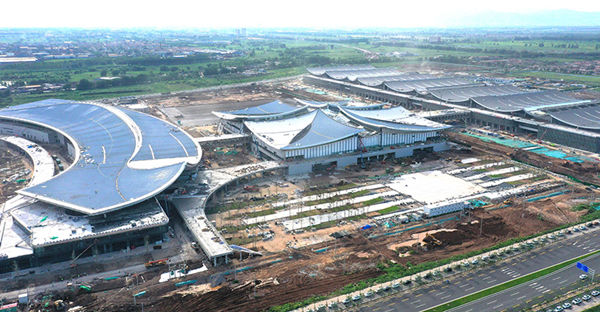 Shanxi Xiaohe International Exhibition Center is under construction in Taiyuan. [Photo from Shanxi Daily]
The growth rate of the industrial added value of Taiyuan, capital of North China's Shanxi province, reached 10.3 percent in the first half of 2022, ranking first among Central China's six provincial capitals and fifth among provincial capitals across the country.
During this period, the added values of non-traditional industries, high-tech manufacturing, equipment manufacturing and strategic emerging industries respectively accounted for 45.4 percent, 15 percent, 21.8 percent and 27.1 percent of the city's industrial added value.
The total output value of Taiyuan's enterprises above designated size – those with annual revenue of CNY 20 million($2.95 million) or more – increased 20.6 percent year-on-year to CNY 249.72 billion from January to June. For June alone, the output value saw a record high with CNY 52.04 billion.
In addition, 283 industrial projects with investment of CNY 14.78 billion in place were under construction in the city, reaching the highest level in the same period in the past six years.