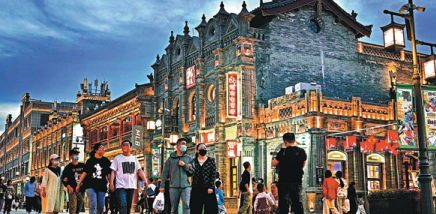 The Bell Tower Street, a tourist attraction in Taiyuan, has drawn in more visitors since early May. [Photo by Liu Tong for China Daily]
After hearing that the last patient in Taiyuan's latest COVID-19 outbreak was released from hospital on Wednesday, Zhao Jianfei, a deliveryman at Taiyuan branch of SF Express, said he felt relieved.
From early April, Taiyuan, the capital city of Shanxi province, reported a total of 315 domestically transmitted COVID-19 cases. As a number of cases were reported in local courier companies, the logistics industry was one of the hardest-hit sectors.
"As the delivery industry plays an important role in the livelihoods of residents, all outlets of our company have resumed normal operations since the beginning of this month," Zhao said. "I believe we will have a steady increase in our business as all the socioeconomic sectors return to normal."
Zhao's optimism comes from what he sees on the streets of Taiyuan: the increasing flow of pedestrians and traffic; the reopening of stores; and the return of tourists.
Since mid-May, Taixiangli, a famous food street in the city, has seen an increasing number of diners, especially in the evenings.
Li Xiaobin, an employee at Tanyaxue hotpot restaurant in Taixiangli, said the restaurant's seat occupancy rate has reached about 70 percent. "We normally work till 11 pm," he said.
Liu Yan, a Taiyuan resident, was among the visitors to the street. She said there are a lot of people like herself who cannot resist the temptation of the delicious food on offer there. "We are glad to see that there are still so many varieties for us to choose from."
Business recovery on the street is also a result of local administrators' efforts in applying necessary pandemic control and prevention measures.
These measures include requiring customers to show their health codes and nucleic acid test results; checking everybody's temperature; and the thorough disinfection of restaurants and stores.
With the help of the provincial government and governments at local levels, the service industry in Shanxi, which was the hardest-hit during this round of the pandemic, is showing a strong recovery.
Incentives to service industry players include issuing preferential coupons to consumers; reducing taxes, offering subsidies for loans and granting direct government subsidies to enterprises.
According to Wang Le, chairman of the Association of the Retailing Industry in Shanxi, a total of 2.58 million consumers in the province received government-issued coupons from May 1-8, which helped the service industry generate a combined revenue of CNY 300 million ($44.57 million).
Wu Jia contributed to this story.