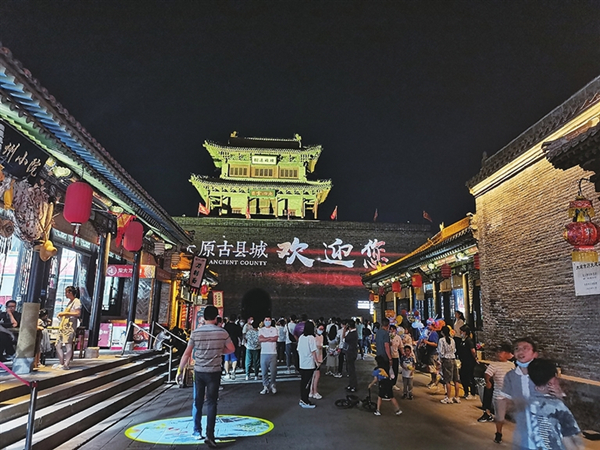 Visitors tour in Taiyuan Ancient County in Taiyuan. [Photo from Taiyuan Daily]
Taiyuan, capital of North China's Shanxi province, aims to form a modern service industry system with an optimized structure, efficient layout, distinctive features, strong innovation, and integrated development by 2025.
According to the city's plan to develop the service sector from 2021-25, it will boost the output value of the service industry to CNY 500 billion ($75.15 billion) and increase the added value of the service sector so that it can account for over 30 percent of the total in the province by the end of 2025.
To this end, Taiyuan will build a service industry development model.
The city will take the Fenhe River as the vertical axis to promote the connection, sharing and mutual integration of real estate, business circles, service facilities, public spaces and other resources along the river.
The two leisure and cultural tourism development belts of the East and West mountains in the city will be improved.
The city will build four financial clusters - the Yingze Street Financial Cluster, Cinda International Financial Center, Fenhe Financial City and Jinyang Financial City, and develop science and technology service and information service industries in six core areas including the districts of Xiaodian, Yingze, Wanbailin and Xinghualing.
The overall quality of eight major business districts from north to south in the city will be improved by focusing on the development of business, e-commerce, accommodation, catering, cultural and leisure industries, and the nighttime and holiday economy.
Relying on the main urban area, Taiyuan will also strengthen the construction of shopping, accommodation and catering, medical and health care, education and culture, sports and entertainment, terminal distribution and municipal service facilities to further develop a fast and convenient service industry for residents.