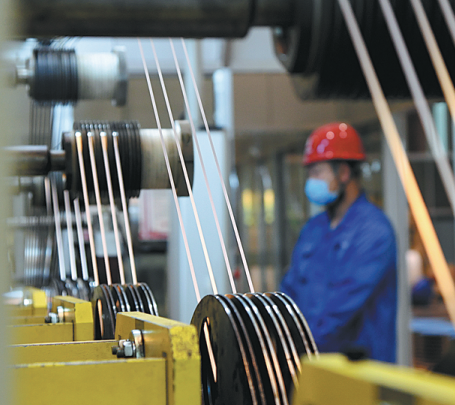 A worker watches over machines producing superthin stainless steel foil at a Taiyuan Iron and Steel plant. [Photo by Wang Pei for China Daily]
Taiyuan Iron and Steel Group in Shanxi now producing sophisticated materials with a multitude of applications after years of tireless effort
Contrary to people's impressions of metal being strong and hard, steel can be made as soft as paper if it is thin enough.
This is what the superthin stainless steel foil produced by Taiyuan Iron and Steel Group, a State-owned enterprise in North China's Shanxi province, is capable of.
With a thickness of less than 0.02 millimeters, or one-third of the diameter of a human hair, the product can be easily torn apart by hand. As a result, it is called "hand-torn steel" by the company's workers.
According to Wang Tianxiang, manager for the production of precise steel foil products at Taiyuan Iron and Steel, the company is among the few in the world that can produce steel foil with such delicacy.
"The product is not made so thin and soft for the purpose of satisfying people's imaginations or for an entrance into the Guinness World Records," Wang said. "It is produced for applications in specific industries."
"Generally speaking, the product is meant to take the place of aluminum foil in similar industrial applications, like the fields of aerospace, electronics, petrochemicals and automobiles.
"Compared with aluminum foil, the hand-torn steel performs better in erosion, moisture and heat resistance," Wang said.
According to the executive, only sheet steel thinner than 0.05 mm can be called steel foil.
"Most of the steel foil products made in China are more than 0.038 mm in thickness. We are among the few companies in the world capable of producing soft steel foil of 0.02 mm or thinner," Wang said.
Before Taiyuan Iron and Steel began to produce the product, the Chinese market of superthin stainless steel foil was dominated by overseas producers and suppliers.
About six years ago, broadsheet stainless steel foil with thickness of less than 0.02 millimeters was sold in China at several hundred yuan per gram depending on its actual thickness. In comparison, the price of gold was less than 300 yuan ($45).
Taiyuan Iron and Steel began research and development into broadsheet superthin stainless steel foil in 2016, in the hope to bring its own substitute to the domestic market and reduce reliance on overseas supplies.
Liao Xi, head of the R&D team for the product, said crucial technological breakthroughs were made thanks to the efforts of researchers, engineers and workers.
"After exactly 711 experiments and trials since 2016 when our R&D team began working on the product, we successfully developed the product in 2018," Liao said.
"In the manufacturing process, 24 pressings are required for the 0.02-mm-thick and 600-mm-wide sheet steel," he added.
Liao said there are quite a few manufacturers in the world who can produce steel products with such a thickness. However, Taiyuan Iron and Steel is the only one that can produce the steel foil fitting the specifications of 0.02 mm in thickness and 600 mm in width.
He said the company has continued to make breakthroughs in the years that followed. "Our latest product is a variety with a thickness of 0.015 mm, which was developed in August 2020," Liao said.
The engineer explained that, compared with 0.02-mm variety, the new product can help the company tap into a range of new applications.
"The superthin steel material, for instance, can be used for the production of mobile phone battery cases," Liao said. "This can lead to a reduction of battery thickness and mobile phone thickness as a result, as well as a 17 percent increase in battery capacity."
He also listed other fields of application, such as aerospace, astronautics, precise electronics and new energy.
Wang said the company is now able to produce a variety of sheet steel and foil products, with thicknesses ranging from 0.015-0.5 mm and in widths of 3-650 mm.
"The technical breakthroughs (in developing superthin products) have made it possible for our company to be competitive with more higher-value-added products," Wang said.
He noted that high-value-added products now account for 85 percent of the company's total output.
"The ratio is expected to increase in the years to come with the sales of superthin stainless steel foil booming," Wang said. "Our 2021 sales volume of products thinner than 0.05 mm registered a 200 percent increase over the previous year."
According to Liao, Taiyuan Iron and Steel's R&D team is also trying to develop materials other than steel.
"We recently presented a self-heating composite material for the aerospace industry," Liao said. "Used for covering aircraft wings, the material can help to de-ice planes and reduce risks."
The team is collaborating with the country's leading electronic companies, like TCL CSOT and Beijing Oriental Electronics, in developing flexible displays based on its superthin stainless steel foil.
Guo Yanjie contributed to this story.