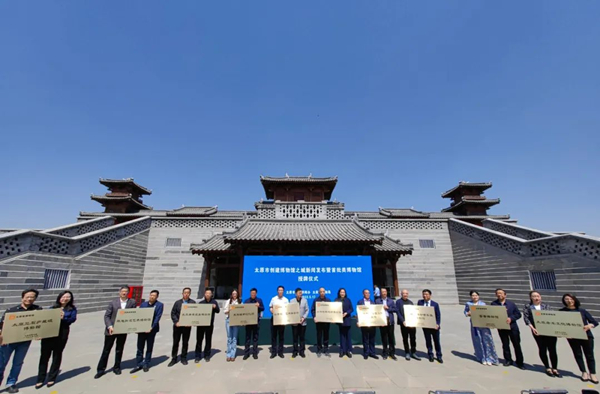 A ceremony recognizing 20 social institutions as quasi-museums of Taiyuan is held in the city, May 17. [Photo from Taiyuan.gov.cn]
The Taiyuan municipal bureau of cultural relics recognized 20 social institutions as quasi-museums in Taiyuan, capital of North China's Shanxi province, on May 17.
Quasi-museums refer to social institutions that perform some of the same functions as a museum, such as collection, display and education.
The 20 quasi-museums focus on topics such as ceramic art, calligraphy and painting art, enamel glaze, history and culture.
At the award ceremony on the day, Taiyuan authorities announced that by 2025, a modern museum system with Taiyuan characteristics, reasonable layout, optimized structure and complete functions will be formed.
To become a leading museum city with an international reputation, Taiyuan has been committed to building and developing museums featuring local culture in recent years, with the number of registered museums reaching 35.
There are also 63 quasi-museums involved in ceramics, painting and calligraphy, enamel, inkstones, ancient architectural model making skills, traditional incense making skills, and traditional rubbing skills.
In addition, the city has 2,237 immovable cultural relics and 18,198 cultural relics/sets collected in social institutions. These relics carry are important to the study of history, reflect the rich culture of Taiyuan, and have laid a solid foundation for Taiyuan to grow into a city of museums.
This April, Taiyuan took the lead in the implementation of a national museum cultivation plan. According to the plan, Taiyuan will encourage social institutions that have some museum-like functions but have not yet met the museum registration requirements to build museums based on their own conditions and gradually meet the museum registration requirements.
Next, the city will improve these quasi-museums' infrastructure and hold more exhibitions and activities, so as to allow more people to share in the achievements of cultural relics protection and utilization.