Since the Belt and Road Initiative proposed, a large number of central enterprises have taken solid steps to go global. Thanks to the hard work of builders at home and abroad, the connectivity under the Belt and Road Initiative has been steadily promoted, and many key projects have been taken root. POWERCHINA's project in Serbia demonstrated Chinese enterprises' strong contractual capacity and confidence and established a good reputation in the local community.
The Belgrade Belt Highway Project is a landmark for POWERCHINA to open its European market. At the opening ceremony of the S5 bid section, Serbian President Aleksandar Vucic mentioned an old Chinese saying "if you want to get rich, build roads first", which highly resonated with the Serbia's development concept in recent years.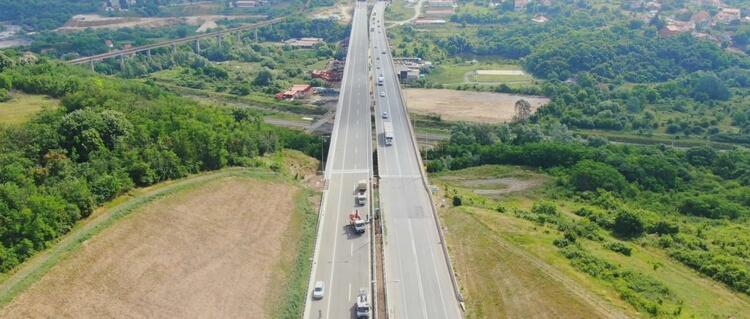 "Located in the southern suburb of Belgrade, the capital of Serbia, the project is a 20.34 km long circuit road B section connecting with Serbian highway E70/E75. With a design speed of 120 km/h, it is the only double line of European Corridor 10 in Belgrade," said Jovica Radic, the Deputy Chief Engineer. In the face of the big challenge of design, POWERCHINA actively tackled this difficulty and invested a lot of skills and efforts in a limited time. Its high technical level and superb construction capability has proven itself to be a reliable and credible partner in the infrastructure sector.
The localization strategy is also appreciated by Serbian employees. The project has recruited many Serbian engineers and senior managers to localize its management, which not only reduced the transition phase in the preliminary stage, but also laid a solid foundation for its smooth implementation. Aljosa Lazinica, a bridge engineer with rich experience, was motivated by the continuous coordination with the Chinese technical team and spoke highly of their technical and construction ability. "Together with Chinese colleagues, we identified technical solutions to problems in the design, changed old designs, and improved the work quality to speed up construction. We have successfully overcome the biggest challenge in the bridge construction. I believe POWERCHINA's technical level and construction capacity can control all kinds of construction, especially some large-scale civil engineering projects."
Ayosha Raznitsa has closely linked his future with POWERCHINA, "I hope to see modern highways, railways, subways and better public transportation in Serbia. I also hope that Serbia will enjoy better economic development, more convenient travel and better life quality for its residents. I hope I can take the Belgrade subway in a few years."
The close Sino-Serbian relationship and the friendliness from the Serbian government and people to Chinese enterprises have served as a good foundation to advance the Belgrade Belt Highway Project. Luka Pavlovic, now the project's senior director pointed out this project was their dream for decades. "It will bring many benefits to Belgrade and Serbia as a whole: passengers will pass through Belgrade safely, residents around will travel more easily, and the city traffic pressure will be greatly relieved. The project has maximized the preservation of the surrounding forest vegetation, which provided a good ecological environment. In addition, Belgrade's industrial zone will be expanded and more new investment and companies will be settled in Serbia, which will improve Serbia's economic level and competitiveness in the global market.". He was full of confidence about the deepening Sino-Serbian relationship and all-round economic and social development of Serbia.
Through the Project, foreign employees have a new understanding towards Chinese enterprises, and they are full of confidence in the prospects of POWERCHINA in Serbia. At the same time, they have developed a strong interest in some traditional Chinese culture and learned about China through their own ways. Jovica Radich said, "I learned how to respect work and leadership like a Chinese. I learned how to be more persistent and not give up too early and I will apply this spirit to my family and life. I look forward to use these knowledge and skills to contribute to my city and country." The project department also organized cultural activities to build connections among employees and strengthen their solidarity. Luka Pavlovic said, "Chinese culture gave me the opportunity to deal with work and life from a different perspective. Six years of working and living with Chinese colleagues made me deeply love the opportunity to have such a stable job, and it also let me take a long-term plan to start a family in the city where I was born. We will continue to work together to implement more new projects that will directly contribute to Serbia's future development."