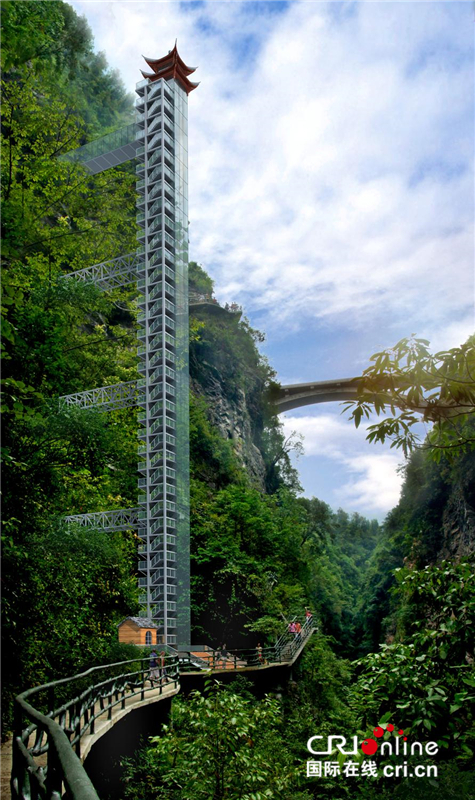 Flying Rainbow over the Valley (Photo by Wu Bing)
For the purpose of improving the travel experience, the sightseeing wall elevator of the geocentric scenic spot in Shimen River, Jianshi Town, Enshi State that is vertically hanging to the wall has been officially taken into operation on Aug 8th.
According to a survey, "Shimen Qingtian-above the cloud",the 100-metre long vertical wall elevator is located onto the cliff of the Wenxin Valley of the geocentric valley scenic valley in Shimen River. The elevator adopts the most updated product of the world's largest elevator company-OTIS Elevator. The ground height reaches 98 meters, which is equivalent to the height of a 35-story building. The underground foundation is 9 meters deep, with a carrying capacity of 1350 kg and a running speed of 2 m/s. The one-way running time is 50 seconds. The total cost of the elevator is 12 million yuan. The ladder shaft is made of heavy steel structure. The exterior is decorated with curtain wall. The top and the entrance are decorated with the most prominent style of the Tujia Minority style.
The Wenxin Valley is deep in its river bed. Decorated with luxuriant vegetation, steep cliff, torquoise river and flying waterfall, it has became a peculiar spot of the most beautiful canyon in Shimen River Gorge. Taking the vertical elevator from the Wenxin Valley can reach to the "Shimen Qingtian-Above the Cloud" which is in the top of the valley. Alongside the route, famous spots like "A pair of stone tigers of Shimen", "Flying Phoenix" along the Ba salt ancient road, "Shinan's best scenery"in the Buddha temple cave of Shimen (Qing cliff stone carving), the marvelous "White Tiger Totem"inside the Shihu Mountain, the floating shadow of the sail bridge in the geocentric calley, as well as the renowned Shimen River Bridge Forest all can be seen clearly through the transparent elevator.
Since the trial run of the sightseeing elevator on Aug 8th, a series of convenience facilities have been established to connect the beauty along the way, from the first 9D glass suspension bridge "Above the Cloud" that is built in China's canyon, to the upcoming hanging vertical sightseeing elevator "Dance of the Clouds" which will open in September. The pure, unintentional Zen and geological wonders of the Geocentric Valley of Shimen River Valley make people feel like they are passing through time and space and even unwilling to leave this wonderland.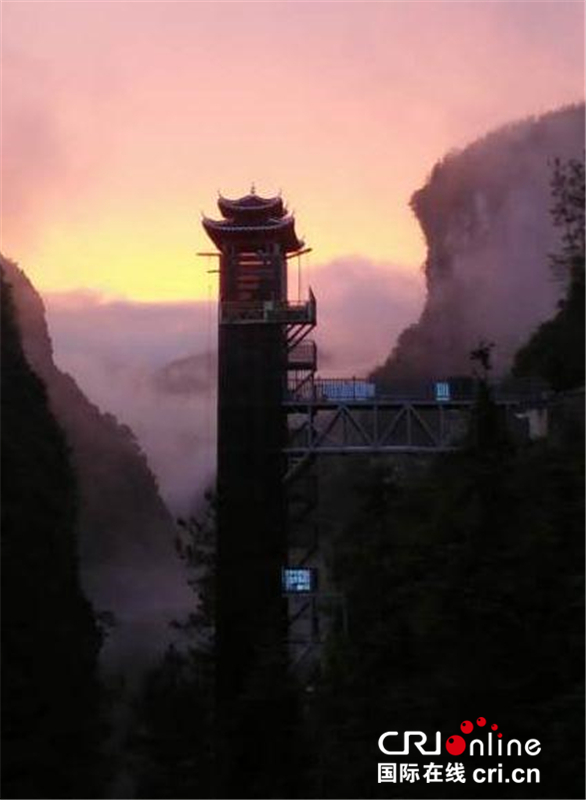 The vertical wall elevator of the geocentric valley (Photo by Shu Xiangu)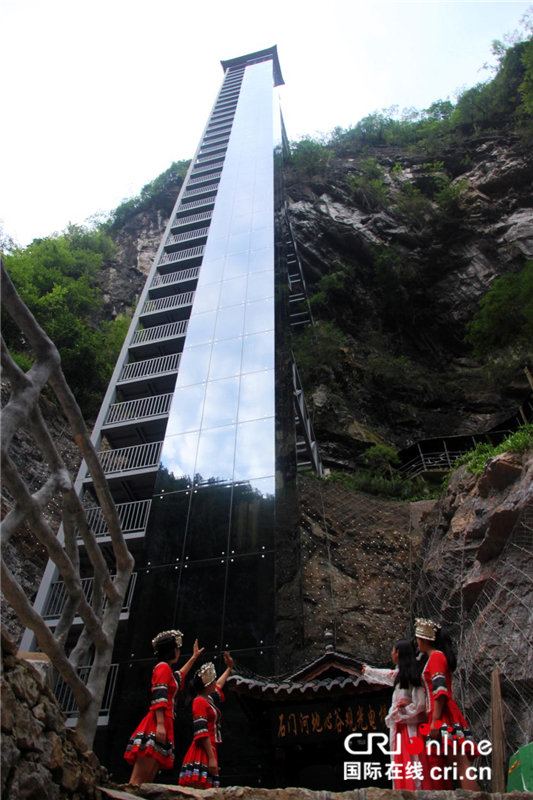 The vertical wall elevator of the geocentric valley (Photo by Wu Bing)