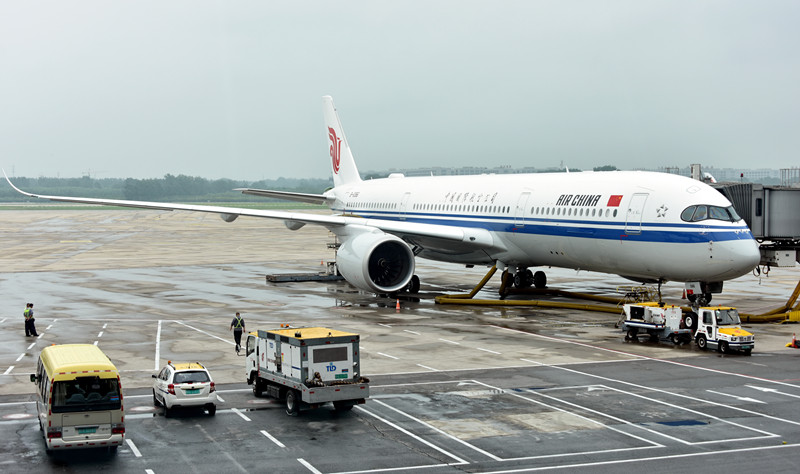 The Airbus 350-900 that entered service as Air China flight CA1557 waits at Beijing Capital International Airport before departing for Shanghai Hongqiao International Airport on Tuesday. MA RUZHUANG/FOR CHINA DAILY
Air China plans to use wide-body aircraft for intercontinental flights
Air China, the national flag carrier, has begun to operate one of the world's latest long-range, wide-body jetliners, the Airbus A350-900, and plans to use it soon for intercontinental flights.
An A350-900 took flight as Air China flight CA1557 from Beijing Capital International Airport to Shanghai Hongqiao International Airport on Tuesday morning with more than 300 passengers on board.
The flight marked the start of the A350-900's service on the Chinese mainland as well as a new milestone in China's civil aviation industry. The operation of the A350-900 means the country now has all of the world's top jetliners, including the United States' Boeing 787 Dreamliner and Airbus A380.
Air China said in a statement published after the flight that the introduction of the A350-900 will help to strengthen the carrier's efforts to expand its global network and improve its competitiveness in the international market.
Liu Xiaohan, a jetliner fan from Hangzhou, Zhejiang province, said he asked for a two-day leave from his employer, an entertainment company, and flew from Hangzhou to Beijing on Monday to catch the A350-900's debut flight on the Chinese mainland.
"As far as I know, many aircraft fans in China like me are aboard this flight to see this new, advanced plane," he said inside the cabin.
Luo Yong, general manager of the marketing department at Air China, said the carrier ordered 10 of the aircraft and that Airbus will deliver the second one to Air China in September.
"A total of six A350-900s will have been delivered to us by year's end. Deliveries of the remaining four will take place next year," he said.
The jetliner will be tasked with fulfilling major domestic routes, such as those linking Beijing with Shanghai, Chengdu, Guangzhou and Hangzhou. It will also be used on intercontinental flights connecting Beijing and Shanghai with European hubs, including Rome, Frankfurt and London, he said.
Air China took delivery of the A350-900 in Toulouse, France, on Aug 8, becoming the first customer from the mainland to own the world's newest and most efficient twin-engine, wide-body aircraft.
Powered by Rolls-Royce Trent XWB engines, the A350-900 aircraft features a comfortable three-class cabin layout of 312 seats: 32 business, 24 premium economy and 256 economy. It can travel 15,000 kilometers in a single flight.
Hou Yu, vice-president in charge of sales at Airbus China, said the aircraft is the world's fastest and quietest commercial jetliner in service, adding that more than half the plane's airframe is made of advanced composite materials.
"Our A350-900 consumes 25 percent less fuel and emits 25 percent less carbon than its competitors," he said.
So far, Airbus has obtained 60 orders for A350s from Chinese mainland carriers - 10 from Air China, 20 from China Eastern Airlines, 20 from China Southern Airlines and another 10 from Hainan Airlines. As of July, Airbus had received 890 orders for A350s from 46 customers worldwide and had delivered 188 such jetliners to 19 buyers.
The price of each Airbus A350-900 aircraft is $317.4 million, according to the company's catalog.