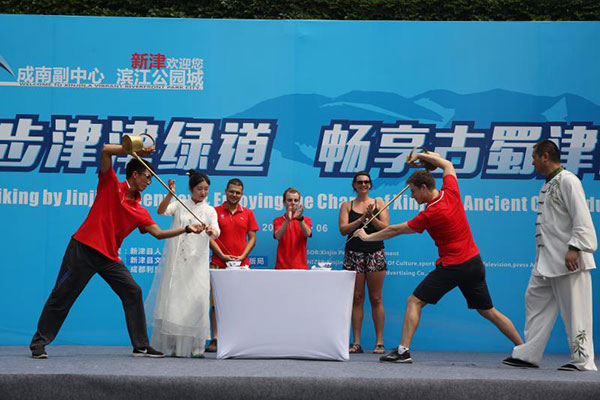 Chinese and foreign athletes trying their hands at pouring Kung Fu Tea on the sidelines of the 9th International University Rowing Regatta (Photography by Liao Hongqun)
The event, titled "Striding down the Xinjin Greenway and Enjoying Traditional Sichuan Culture", was held in Xinjin County, Chengdu in Sichuan province on August 6th. A group of athletes participating in the 9th International University Rowing Regatta trekked along the picturesque path, which is officially referred to as a natural ecological promenade, and caught a glimpse of local culture along the way.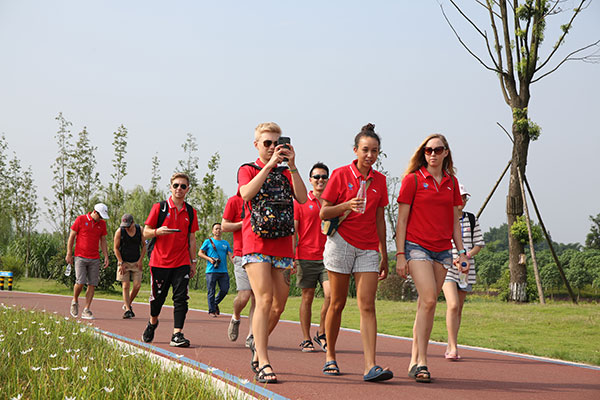 Chinese and foreign athletes hiking along the greenway (photography by Liao Hongqun)
Situated along the path are a collection of heart-stirring sceneries, ranging from the Yangma River to the most acclaimed mottled bamboo forest in western Sichuan. As the athletes trekked along the greenway, not only were they enthralled with the natural landscape, they were equally captivated by the unique and vibrant local culture on display, including Xinjin's traditional water culture, modern agriculture, western Sichuan forest culture and the river-dependent lifestyle of locals.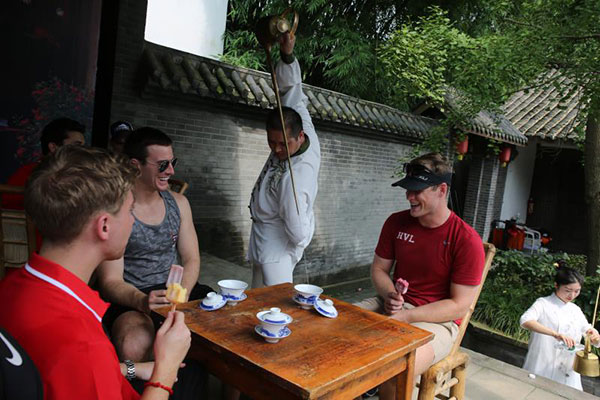 Foreign contestants delighted by Kung Fu Tea performance (Photography by Liao Hongqun)
"The teahouse is a microcosm of Chengdu, and the city is actually an enormous teahouse in and of itself." At the end of a long and joyful trek, the athletes were treated to a healthy and hydrating cup of Kung Fu Tea as they watched Tai Chi performances and learned to appreciate the slow-paced lifestyle of the city and its culture.
Each participant left their best wishes for Xinjin through specially-designed message cards, which were assembled and made into an art installation to be displayed permanently at the greenway, after crossing the finish line. The students' well wishes and messages of love and support have added an additional touch of warmth to the charm of the Xinjin Greenway. (Kevin)