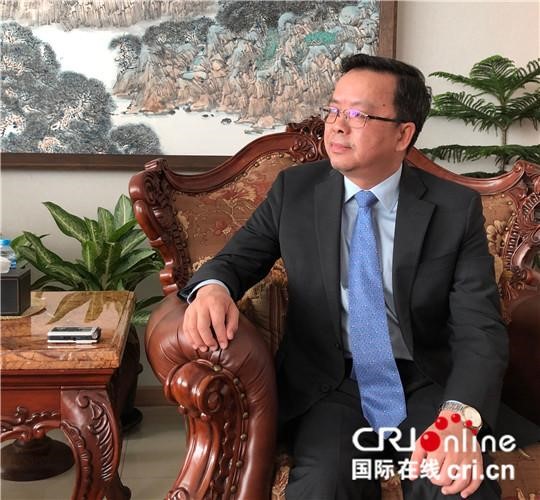 Ambassador Huang Xilian is in the interview
The 16th China-ASEAN Expo(CAEXPO) will be held in Nanning, Guangxi, China, from September 20 to 23, 2019. Huang Xilian, Chinese ambassador to ASEAN recently said in an interview with the media, the CAEXPO has become the economic and trade cooperation between China and ASEAN nations in the annual top event. He is looking forward to the CAEXPO playing a better platform of high-level dialogue with the business cooperation in this region to promote practical cooperation under the Belt and Road Initiative and the China-ASEAN strategic partnership to make a positive contribution.
Huang Xilian said that China's the Belt and Road Initiative is in line with The Master Plan on ASEAN Connectivity 2025 (MPAC 2025). ASEAN is China's priority and important partner to promote the construction of the Belt and Road Initiative with strong cooperation intention, and has made many achievements in"five interconnections",policy coordination, unimpeded trade, facility connectivity, financial integration and people-to-people bonds.
Huang Xilian put forward three expectations for the upcoming CAEXPO. Firstly, we need to deepen synergy between the Belt and Road Initiative and relevant countries. We look forward to more government and business representatives from countries along the Belt and Road to strengthen policy communication and construction with high quality through the east expo.
Secondly, we need to promote cooperation in the China-ASEAN media exchange year and implement The China-ASEAN Strategic Partnership Vision 2030. We look forward to the CAEXPO taking this opportunity to explore cooperation between China and ASEAN countries in new hot spots such as production capacity cooperation, digital economy, science and technology, finance, e-commerce, tourism and smart cities.
Thirdly, we look forward to sending a positive signal of support for multilateralism and free trade, and hope that the CAEXPO will profoundly demonstrate the strong vitality of free trade and investment.