The "Decode a Happy China via Cloud Tours - Foreign Media Online Interview – Together along Belt and Road - Shenyang Promotion Day" was held on October 22 at Shenyang Omnimedia Reception Hall.
On the theme of "The Legend of Shengjing, Intelligent Manufacturing in Shenyang", the first activity of the event mainly promoted local culture and tourism, aiming to further shorten the distance between the city and the rest of the world, strengthen its role in opening up, improve its capacity for international division of labor and increase the level of its cooperation with other countries while boosting its efforts to integrate with the country's "dual circulation" development and achieve high-quality development and prosperity of its economy.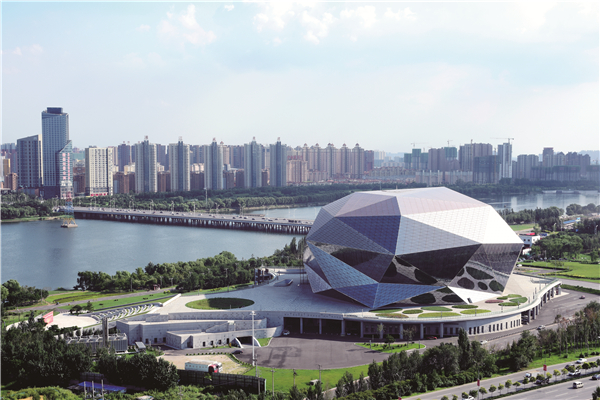 A bird's eye view of Shengjing Grand Theatre, a landmark complex in Shenyang. Photo: The Publicity Department of the Communist Party of China Shenhe District Committee
In his speech, An Jianye, Deputy Director of the Publicity Department of the Communist Party of China Shenyang Municipal Committee, introduced a city featuring a rich culture, hospitality, civilization, inclusiveness, innovation, openness and vigor to reporters of 20 mainstream media outlets from 16 countries, including Germany, Russia, the Czech Republic and Romania.
As part of the event, an exhibition featuring photos taken by foreign photographers during their visits to Shenyang in 2019 was launched, enabling the reporters to see the city through the eyes of foreign photographers.
During the event, Deputy Director An Jianye also gave an invitation for more guests and friends from outside the city to come to Shenyang for sightseeing, work and study, or to invest and open business here so as to share the city's development opportunities and benefit from its development achievements.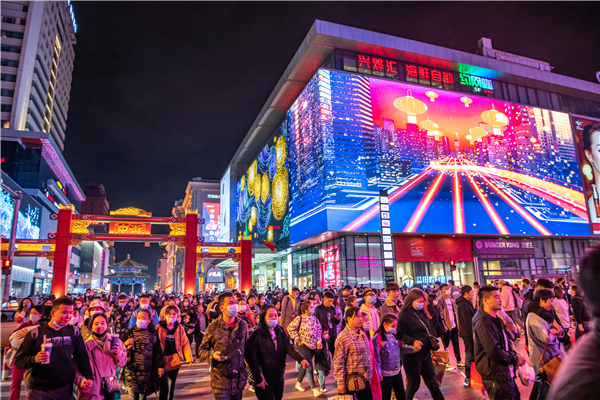 The night view of Shenyang Middle Street, a commercial pedestrian street. Photo: The Publicity Department of the Communist Party of China Shenhe District Committee
It's been proved that cultural exchange and mutual learning can serve as a bond and tool in promoting closer people-to-people ties. The municipal Party committee and the municipal government of Shenyang are expecting more countries and regions will get an overview of the city's international image and more friends from overseas can listen to the city's voice through this online interview event.