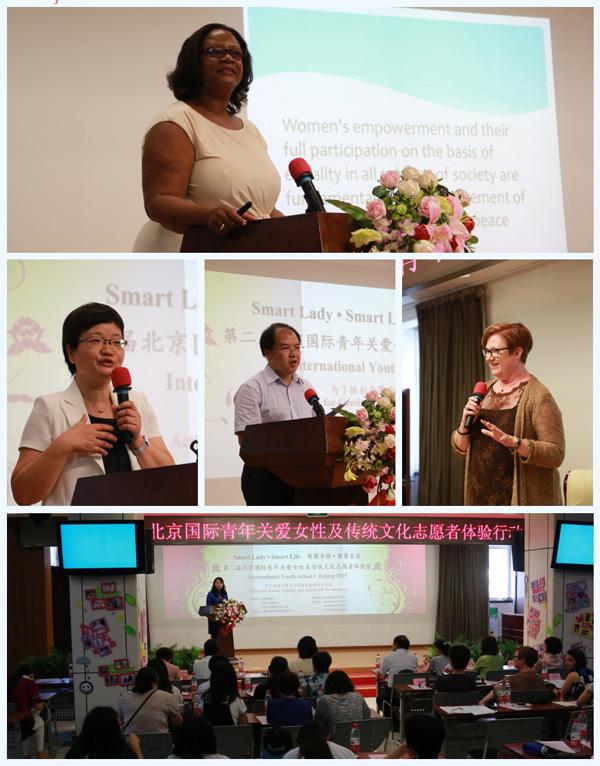 The guests are giving keynote speeches
On the morning of July 13, 2015, "Smart Lady · Smart Life" - the 2nd Session (2015) of Beijing International Youth Action, with the theme of Gender Equality and Sustainable Development, was officially launched in Women and Children Activity Center of Haidian District.
The activity was hosted by Beijing Women's Federation, Chinese Society of Education and Foreign Affairs Office of the People's Government of Beijing Municipality, jointly organized by Beijing Women's International Center, Women's Federation of Haidian District, Women's Federation of Miyun County, Women's Federation of Xicheng District, etc. More than 30 international youth volunteers from 15 countries including Ecuador, Belarus, Germany, Egypt, Russia, France, Korea, Netherlands, Czech, America, Mexico, Serbia, Thailand, Greece and China made a special trip to Beijing with great interest in the theme of "Smart Lady · Smart Life" to participate in the activity. They were to, guided by the Beijing Declaration of the Fourth World Conference on Women (1995), join in the exchange activities around such topics as promoting gender equality, women's empowerment, protecting traditional culture, facilitating exchanges between China and foreign countries, etc. in the following two weeks, so as to deliver love and care to the women and children in Beijing with the wisdom from different cultures.
In the opening ceremony, Zhou Zhijun, vice chairwoman of Beijing Women's Federation, and You Sen, deputy secretary-general of Chinese Society of Education, extended a warm welcome to the international youths from afar, and encouraged them to bear the social responsibilities to boost female initiation and cultural fusion through thinking and actions.
Eunice Smith, acting director of UNESCO Office in Beijing, and Liu Meng, vice president of China Women's University, made a speech around the topic of "female initiation and self-realization". Kathy Johnson, director of Confucius Institute of the Saint Cloud State University, and Anastasia Somoza, international youth representative, gave their interpretations to such topics as the difficulties in education of disabled girls as well as how to help them lead normal social life and how to achieve sustainable development. Li Huicong from China, as representative of the previous volunteers, reviewed the harvest and growth from the voluntary actions last year.
In the end, the international youths presented their distinctive and wonderful shows, to officially open the trip for wisdom collision. They went to the Cultural and Sports Center in Dashilan Street, Xicheng District, and followed the craftswomen in Beijing, including representatives of Beijing Smart Lady, Zhao Wei, inheritor of non-material cultural heritages to draw fans with brushes, so as to experience the conventional wisdom of Chinese culture in drawing.
Source: beijingwomen.org.cn