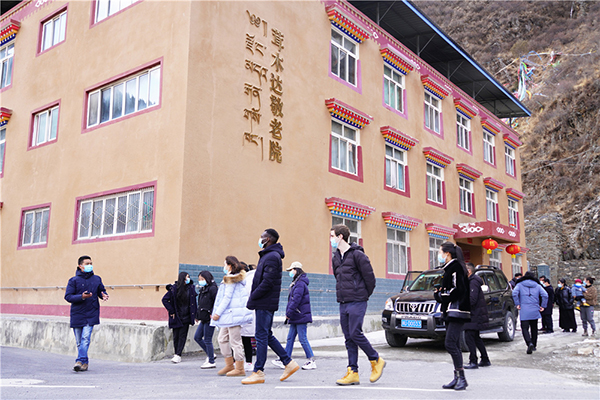 The visiting group went to a nursing home in Rongmuda Township Photo: He Gang
On March 8th, foreign friends who participated in the activity of "Decode a Happy Aba – Foreigners Witness the Poverty Alleviation Achievements of Aba Prefecture" went to Rongmuda Township, Zamtang County, Aba Prefecture, to visit a nursing home there, learning how's the living condition of old people, and the treatment effect of Kaschin-Beck disease.
Zamtang County has taken a lot of measures to prevent and treat Kaschin-Beck disease. "The first measure we took is to change place for education. We constructed school in the place without Kaschin-Beck disease, and arranged students to study at boarding schools." said Wu Xiaoyong, Director of Zamtang County Bureau of Poverty Alleviation and Development. He said that they promoted the safe drinking water project, making safe water flow into people's house, thus everyone can drink the healthy and clean water. Since 2008, the condition of Kaschin-Beck Disease in Zamtang County has been effectively controlled without any new cases. On February 2020, Zamtang County successfully withdrew from the ranks of poverty stricken counties.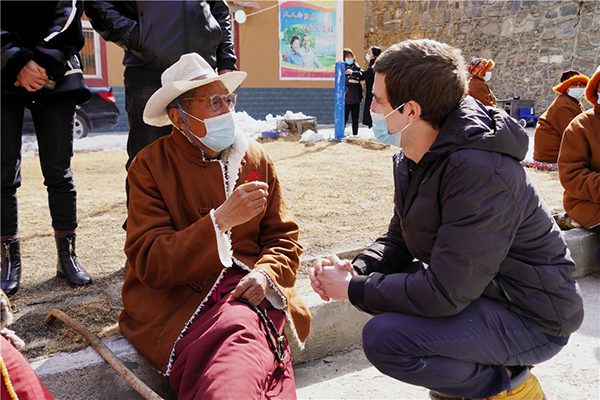 Joaquín Estrader, a foreign student from Argentina, was talking with an old man in a nursing home Photo: He Gang
Emmanuel, a foreign student from Rwanda expressed his feeling after seeing this. "Although the exact cause of Kaschin-Beck disease hasn't been found, the local government has tried many ways to solve the problem. These effective measures which have been taken are worth learning."
By changing place for education, relocating people from inhospitable areas, improve drinking water quality, stepping up breakthroughs in technologies, etc., Aba Prefecture has formed a comprehensive prevention and treatment network for Kaschin-Beck disease, which gathers research, control, treatment and prevention together, and it has achieved good effect.