"What are your dreams, boys and girls?" Daguia Wenam Prince Theodore, an international student from Central Africa, delivered a speech themed on "We Are All Dream Chasers" to pupils at Nangou Primary School in Heyang County of Weinan City, Northwest China's Shaanxi province, on December 3.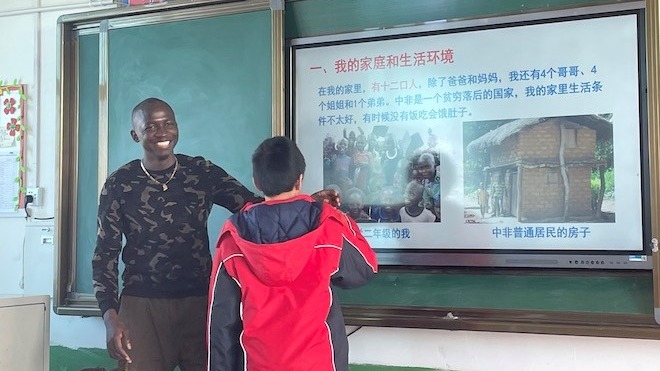 Daguia Wenam Prince Theodore (left) is giving a theme speech to students. [Photo by Wu Mingling]
"Since my childhood, I have been dreaming of changing my fate through knowledge. I aspire to go to university and study veterinary medicine, so that my father's livestock will no longer die of disease and he will no longer be sad." The speech by Daguia Wenam Prince Theodore helped the students learn about how the elder brother in Central Africa had to walk barefoot for three hours to school to pursue his dream. After listening to the speech, Qin Mengyao from Nangou Primary School said, "I want to be a teacher. I will go to other countries when I grow up and teach foreigners to speak Chinese so that they can understand the history and culture of our country."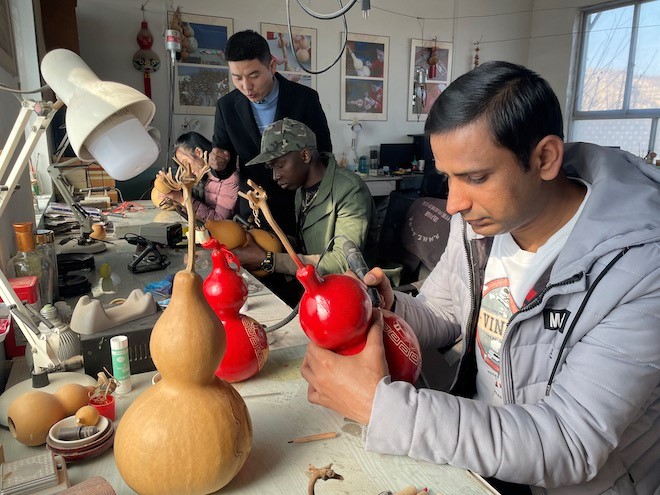 International students and teachers have planted two ginkgo trees symbolizing friendship. [Photo by Wu Mingling]
On December 4, the overseas students visited Bailing Village, Heyang County, Weinan City, Qiachuan Gourd Planting and Processing Cooperative, and Pucheng Crisp Pear Test Station. They witnessed the beauty of villages in the context of rural vitalization, learned about typical cases where the government helped solve employment problems as well as the development of agriculture, rural areas and farmers.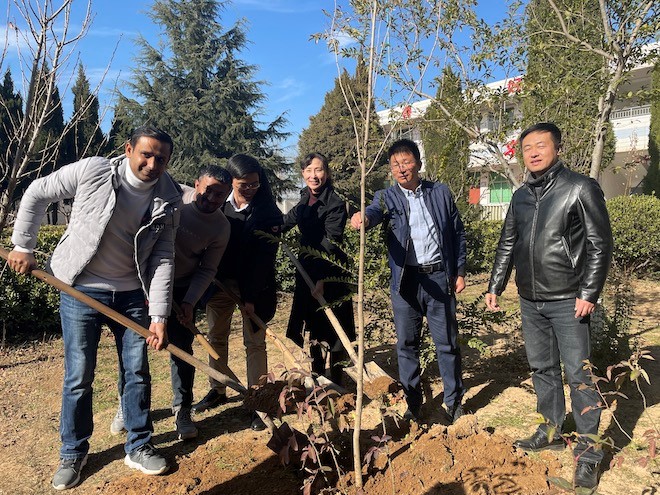 International students are learning line drawing under the guidance of the teacher. [Photo by Wu Mingling]
"I admire the Chinese government for what it has done to alleviate poverty. These measures can provide reference for other countries in need of poverty alleviation," said Billah Masum, an international student from Bangladesh.
The event was hosted by China Scholarship Council and organized by Northwest A&F University and Shaanxi University of Chinese Medicine. 20 international students from nine countries, including Pakistan, Kazakhstan and Thailand, visited the rural areas of Weinan to learn about its stories in the context of rural vitalization.