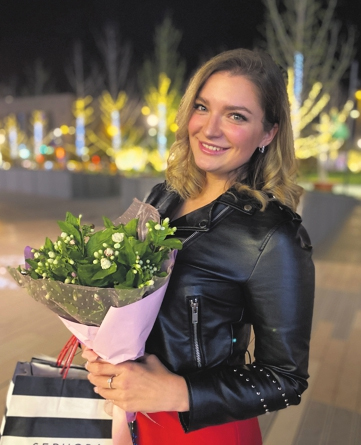 Maria Safroshkina poses with a bouquet of flowers in Taiyuan
Shanxi is a landlocked province in North China. The capital and largest city of the province is Taiyuan.
Shanxi is a leading producer of coal in China and has more coal companies than any other province.
The province is most known for its extensive use of vinegar as a condiment, as well as for a huge variety of noodle dishes, particularly daoxiaomian or knife-cut noodles, which are served with a range of sauces.
But these are all well-known facts about Shanxi.
Not everyone knows that the province has one of the most beautiful mountain roads and city views.
There are many places that are hidden from tourists' eyes and today I'm going to show you some of them.
Don't forget that the name Shanxi means "West of the Mountains", a reference to the province's location to the west of the Taihang Mountains.
Taohuagou, or Peach Blossom Valley, in the suburbs of Taiyuan, is probably one of the best places to relax, where you can spend a couple of days with your family and friends to enjoy fresh mountain air, nice food and bird watching. In the evening you can enjoy a romantic sunset there. Up the mountain there's another beautiful scene, where we had the pleasure of seeing the beautiful Taiyuan city.
Another great place for hikers and cyclists is located in the northeast of Taiyuan. It is the Fenhe River Second Reservoir Scenic Area, a place you definitely don't want to miss. Going up to the top of the mountain at the end of the day will give you the chance to enjoy a magnificent sunset.
On the way to the top of the mountain you will come across some small villages and moreover there is a little cafe on the way to the peak.
If you are looking for a safe and beautiful place for hiking, then Shanxi province is definitely a place to go.
In addition, I have a few suggestions for the city of Taiyuan.
I hope the government will build a pioneering industrial park for foreigners, just like those in such cities as Beijing, Shanghai and Guangzhou. It will improve the economic strength of Taiyuan as more professional foreigners will move to the city and start their own businesses.
It will be better for our foreigners to be offered a community in Taiyuan, Shanxi. If we can live together, it would be much more convenient for us.
By MARIA SAFROSHKINA
(This news was first posted on July 17, 2020)