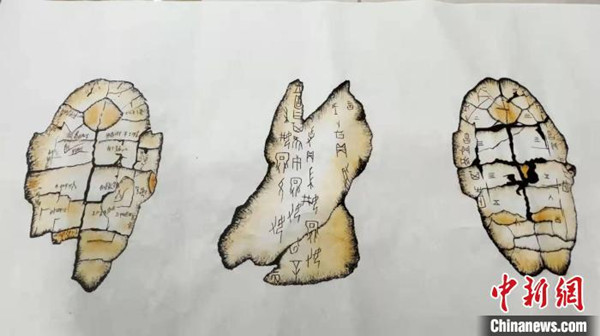 Several stone rubbing pieces created by craftsman Chen Xu from Taiyuan city of Shanxi province. [Photo/chinanews.com]
Stone rubbings, also known as ink-imprints or ink-squeezers, is one of the major inventions from ancient China. Using paper and ink, the engraved surfaces can be copied as sharper images to depict history.
When a stone rubbing piece is made, a piece of moistened paper will be used first to cover the surface, then a stiff brush is used to press the paper tightly, bringing the inscription to light. When the paper is almost dry, an inked pad will be used to tap or squeeze the surface, leaving the inked inscription on the paper. Finally, when the paper is peeled off, a clear impression of the engraved texts or pictures will emerge. This traditional technique is described as "a camera reviving history" in China.
Chen Xu, 68, of Taiyuan, Shanxi province, who first learned about stone rubbings in 1995, has spent most of his time on it since then, delving into it for more than 20 years. The stone rubbing works contain loads of information about history, culture, art, and life in ancient China, Chen said, they are not only the copied images of cultural relics, but also the carrier of history, precious memories from China's past.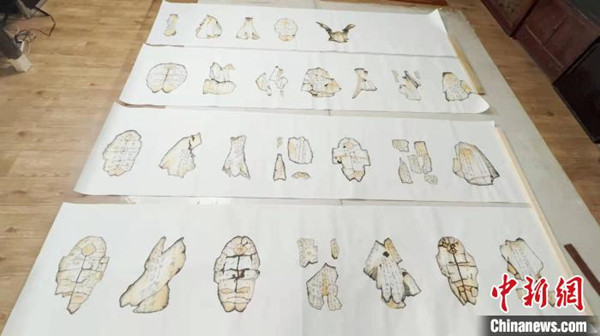 The oracle bone series stone rubbing pieces created by craftsman Chen Xu from Taiyuan city of Shanxi province. [Photo/chinanews.com]
Chen is also exploring the possibility of merging this ancient technique with modern life. Except for some traditional objects for rubbings, such as oracle-bone inscriptions and tombstone inscriptions, things from daily life can also be ink-imprinted. Thus the stone rubbing technique can also be used to reflect modern life, like urban and rural construction, poverty alleviation.
"Based on real vegetables, fish and shrimp, my work 'Full vegetable basket' shows the achievements in poverty alleviation in rural areas of China. I want to record this encouraging historical stage, where people in rural China have enough vegetables and fish to eat," Chen said.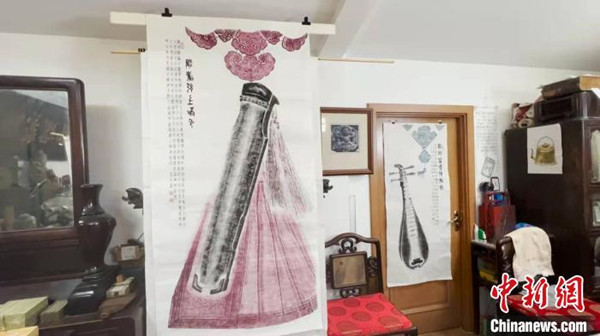 Craftsman Chen Xu fuses stone rubbing technique into modern life, bringing cultural heritage alive. [Photo/chinanews.com]
Chen believes that stone rubbings can play an important role in spreading Chinese culture. He said that nowadays, we need to bring forth some new ideas for inheriting this ancient technique, turning it into a storyteller of Chinese culture.
"Now as a teacher of the 'stone rubbing technique' curriculum at Shanxi University of Finance and Economics, I hope that through my own efforts, more and more people can join us to pass on this ancient technique," said Chen.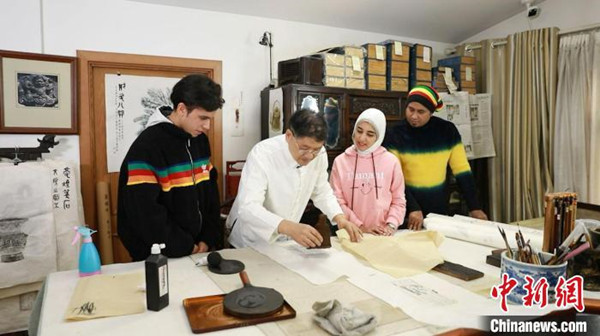 Craftsman Chen Xu shows the stone rubbing technique to students at Shanxi University of Finance and Economics. [Photo/chinanews.com]