Under the huge statue of the Red Emperor in the Laodingshan Scenic Area in the southeastern Shanxi city of Changzhi, Wei Lei, a tourist from the provincial capital of Taiyuan, told his child the tale of the legendary forefather of the Chinese nation.
The Red Emperor, or Shennong, was one of the great leaders of China some 5,000 years ago, Wei said. He added that his contributions to the nation include teaching people how to farm and developing the science of herbal medicine. A famous story tells of Shennong tasting 100 herbs to judge the medical effect of plants.
Local residents believe the city of Changzhi, which was known as Shangdang in ancient times, is closely related with the activities of Shennong.
"Shangdang is one of the cradles of Chinese civilization, with many stone farming tools discovered in the region," said Cui Xin, an official at the Laodingshan Scenic Area. "The tools have been identified as artifacts dating back to some 5,000 years ago, the period when Shennong lived."
Cui said many people believe that the plains in Changzhi were where Shennong developed the farming industry and the mountains, including Laodingshan, were where the legendary figure found and tasted herbs.
The official said there are a number of memorial monuments in Laodingshan for people to worship Shennong. And the building of such monuments ranges from more than 1,600 years ago to the modern times.
A landmark monument in the scenic area is the bronze statue of Shennong which stands 39 meters tall and weighs 150 metric tons. It was built in the 1990s.
This is the tallest statue of Shennong in Asia, according to Li Min, another official at the scenic area.
Laodingshan is about 5 kilometers to the northeast of the city center of Changzhi. Also known as the Laodingshan National Forest Park, it covers an area of about 40 square kilometers.
As 70 percent of the area is covered by forests, Laodingshan is regarded by tourists in Shanxi and the rest of the country as a retreat from the frenetic pace of urban life.
Wang Pei contributed to this story.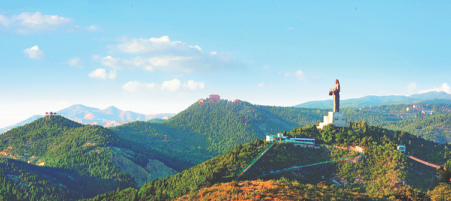 The 39-meter-high statue at the top of Laodingshan is the tallest statue of Shennong in Asia. HOU MANYOU/FOR CHINA DAILY