On the afternoon of June 19, the Third Qingdao Multinationals Summit, co-hosted by the Ministry of Commerce of the People's Republic of China and the People's Government of Shandong Province, kicked off in Qingdao International Conference Center.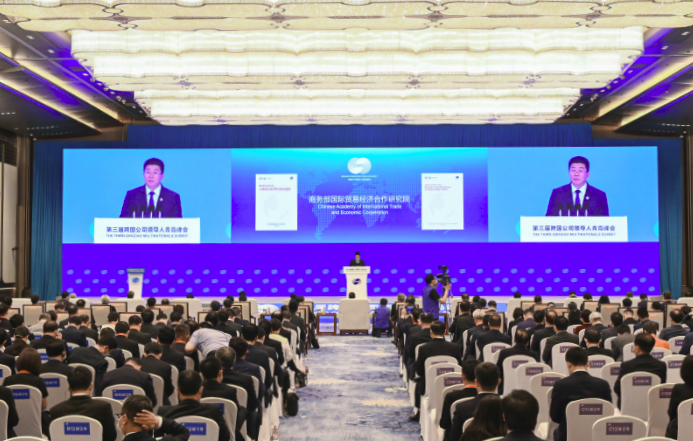 The opening ceremony of the Third Qingdao Multinationals Summit [Photo via the Publicity Department of CPC Qingdao Municipal Committee]
The opening ceremony was presented online and offline, attracting more than 5,600 participants including leaders from 186 Fortune Global 500 enterprises and 290 industry leaders, diplomatic envoys from many countries, representatives of relevant international organizations and business associations, experts and scholars, heads of relevant national ministries and commissions, and heads of Shandong Province.
Themed "Multinationals and China", the Third Qingdao Multinationals Summit focused on the restructuring of the global industry chains and supply chains in the post-pandemic era, the implementation of RCEP, the promotion of institutional opening-up, and many other topics. A total of 44 events in 14 categories were offered, including panel meetings, sub-forums, summit dialogues, multinational promotion, the promotion of major guest provinces, and project signing ceremony.
In 2021, Qingdao's foreign trade and foreign investment rose despite the difficulties faced by the global economy, and the total import and export value hit a record high for five consecutive years, with a year-on-year growth of 32.4 percent, accounting for 29.0 percent of Shandong's total import and export value. Imports and exports to ASEAN countries, the United States and the European Union, the top three trading markets, increased respectively by 43.1 percent, 28.4 percent and 19.1 percent year on year. Imports and exports to countries along the Belt and Road Initiative and other RCEP members increased by 44.8 percent and 35.4 percent respectively. Foreign capital in actual use reached USD 6.17 billion, growing by 5.4 percent over the previous year.