On November 18, "Hi, Confucius" International Online Influencers' Study Tour in Nishan kicked off at the Confucius Museum in Qufu, Jining, Shandong Province. Several young participants from Kenya, Myanmar, Nigeria, Tajikistan and Uzbekistan joined their Chinese counterparts in a study tour to visit the hometown of Confucius.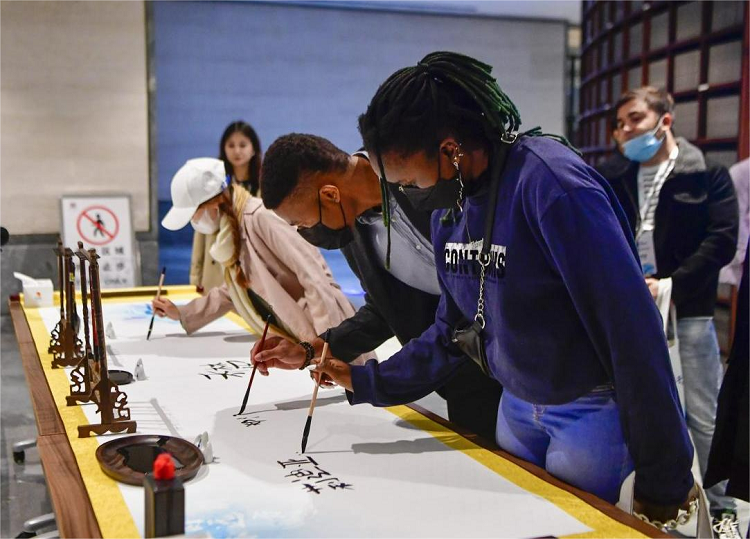 Members of the study tour signed in with a Chinese writing brush [Photo by Zhang Kan]
In the morning, members of the study tour group appreciated cultural relics and enjoyed the instrumental performance titled "Xiaoshao Yayue" at the Confucius Museum. Onyekwelu Patrick Chinazam from Nigeria said: "It was as if I was back 2,000 years ago and had a 'conversation' with Confucius." The members also learned to make pastries of the Kong Family Mansion and tasted dishes of Confucian cuisine at the Queli Hotel.
In the afternoon, the group visited Yan Hui's Mansion and the Temple of Yan Hui, where they experienced traditional Chinese skills and techniques, such as ink rubbing, seal inscribing, archery, and making bows and arrows. "If possible, I hope to come again to experience archery," said Umari Fazliddin from Tajikistan.
On the first day of the study tour, group members also shared the wisdom of Confucian thought with online influencers from different countries via live-streaming sessions on overseas social media platforms.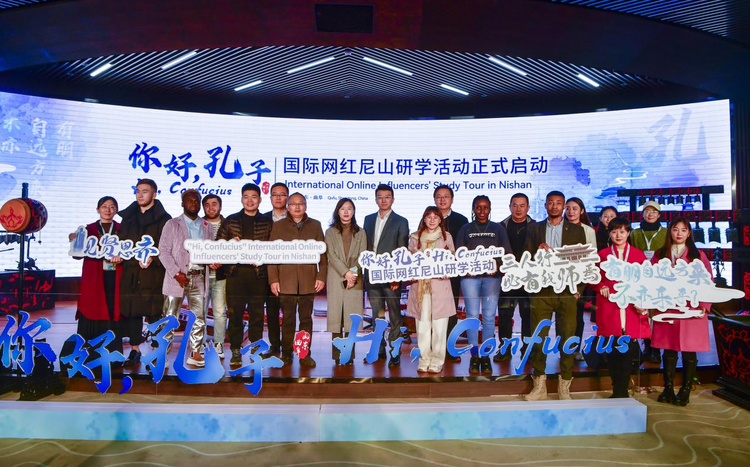 The group photo of participants of the study tour [Photo by Zhang Kan]
The study tour was jointly hosted by Cyberspace Administration of Shandong Province and CRI Online of China Media Group, organized by Cyberspace Administration of Jining Municipality, Shandong Branch of CRI Online, and Sdchina, co-organized by Cyberspace Administration of Qufu Municipality and supported by China Internet Development Foundation, with the aim of enhancing international exposure to the fine traditional Chinese culture represented by Confucian culture. Furthermore, the study tour promotes exchange and mutual appreciation between Chinese civilization and other civilizations around the world.