On the morning of January 29, an oath-taking rally for the Year of Uphill Tasks for High-Quality Project Construction and the centralized commencement ceremony of CNY 10 billion major projects took place in Yanta District under the theme of "Attracting and Promoting New Levels of Top-Notch Investment in Yanta".
The total investment of CNY 20.283 billion marked the most significant influx of investment into a centralized commencement in Yanta District in recent years. It involves aspects of industrial, social, livelihood, urban renewal, and resettlement building projects.
Activities slated for Yanta District in 2023 include the promotion of high-quality project implementation and are dedicated to distinctive, project-oriented development. The district has had 29 municipal and 118 district key projects for a total investment of CNY 79.921 billion and CNY 278.83 billion respectively and a planned annual investment of CNY 13.584 billion and CNY 30.778 billion.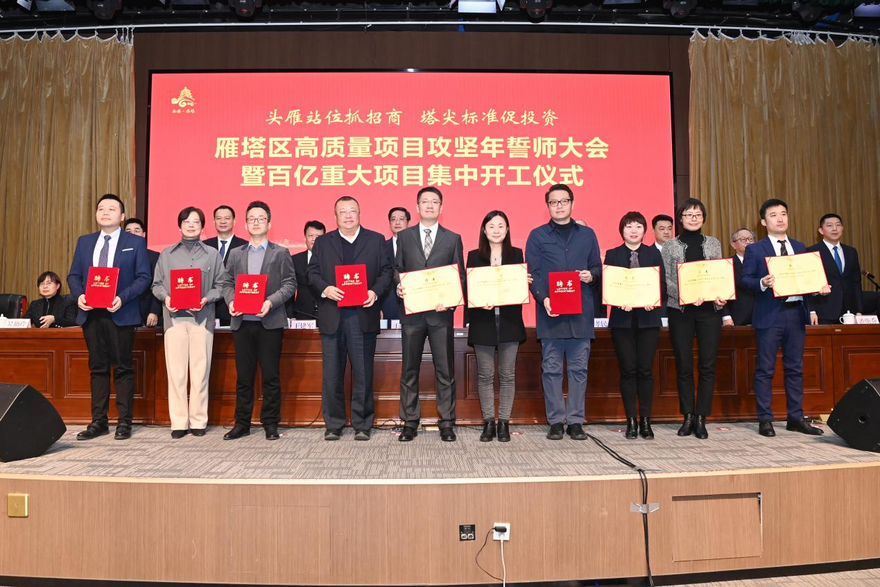 Ten representatives receive Letters of Appointment
In its pursuit of major breakthroughs through projects in support of high-quality development, Yanta District will be employing the Ten Major Measures (i.e., promoting investment with vigor, methodology, targeted application, and adaptation to local conditions; establishing platforms for investment attraction and seeking help from outsiders; promoting investment on the basis of investment bank logic, integrated development, considerate services, and a result-oriented attitude) to promote investment as a top priority and the primary task of the district. At the rally, the district signed the Yanta District Liability Statement for Investment Attraction Tasks with ten groups for promoting industrial investment and then held a flag presentation ceremony on-site. The district also issued letters of appointment for ten representatives who will serve as "Leaders for Investment in Yanta District", make effective suggestions on project development, and offer support in attracting investment to the region.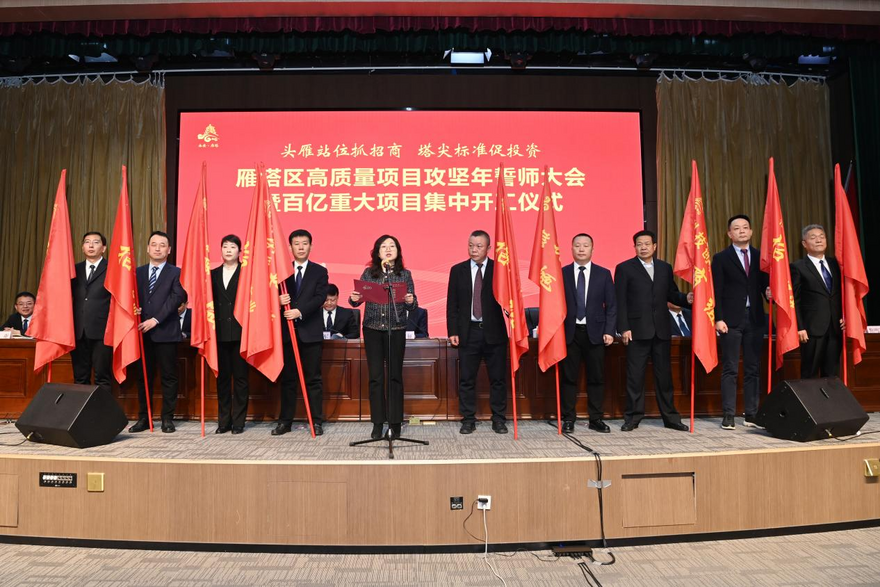 A representative from a group for industrial investment promotion delivers a speech at the flag presentation ceremony
In the near future, Yanta District will strengthen the Six Types of Consciousness (everyone can form an investment attraction and business environment, and cadres should play a leading role in the execution of their duty and improve the awareness of venture capital investment, mutually beneficial cooperation, and overall development), improve the Six Abilities (specifically the leadership and its ability to carry out publicity while pushing on with development, attracting more investment, offering better services, and becoming more innovative), and gather strengths from all parties. Yanta District aims to reach its expected goals of total growth output value at approximately seven percent and regional fixed-asset investment of more than eight percent as it strives to make greater regional contributions to Chinese-style modernization.