ITB Berlin, the world's leading travel trade show, took place on March 7-9, 2023, in Berlin, with the theme "Open for Change". The 2023 fair was the first offline session of the event since the outbreak of the COVID-19 pandemic. Government officials, tourism destination managers, experts, scholars, senior tourism company executives, media outlets, and heads of international organizations from more than 180 countries and regions attended the event. The World Tourism Cities Federation (WTCF) participated for the seventh consecutive time as a co-host.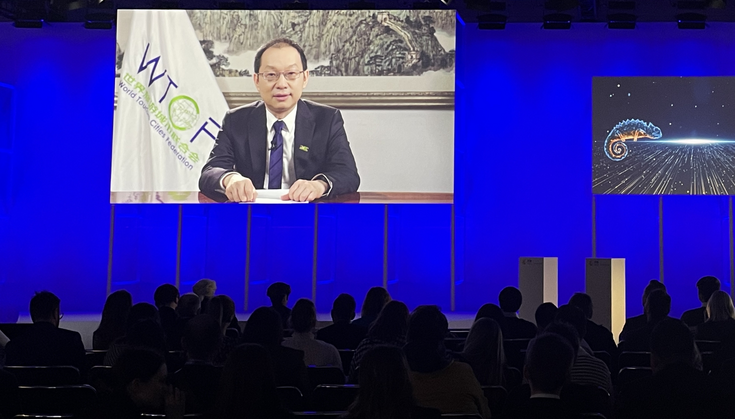 WTCF Secretary-General Yang Shuo speaks at the ITB Berlin 2023 opening ceremony. [Photo via WTCF]
On March 7, Yang Shuo, WTCF's Secretary-General, spoke at the opening ceremony of the fair, reiterating the importance of tourism to the world economy. Touching on global tourism development trends which are related to the theme of the fair, he expressed full confidence in global tourism's ability to prosper following the gradual opening of the inbound and outbound tourism markets in China.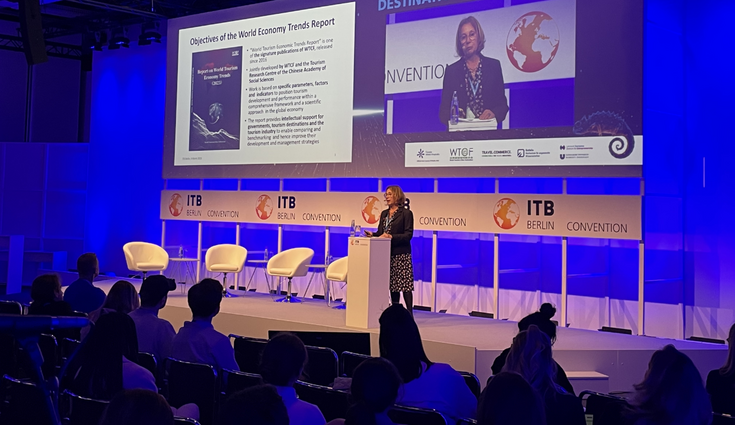 Esencan Terzibasoglu, Special Advisor to WTCF's Secretary-General, presents the Report on World Tourism Economy Trends (2023). [Photo via WTCF]
During the fair, Esencan Terzibasoglu, Special Advisor to WTCF's Secretary-General, presented the results of research carried out by the WTCF in the Report on World Tourism Economy Trends (2023). The report predicted a 2023 recovery in total global tourism revenue to 86.2 percent of the pre-pandemic level in 2019, 6.6 percentage points higher than that of 2022.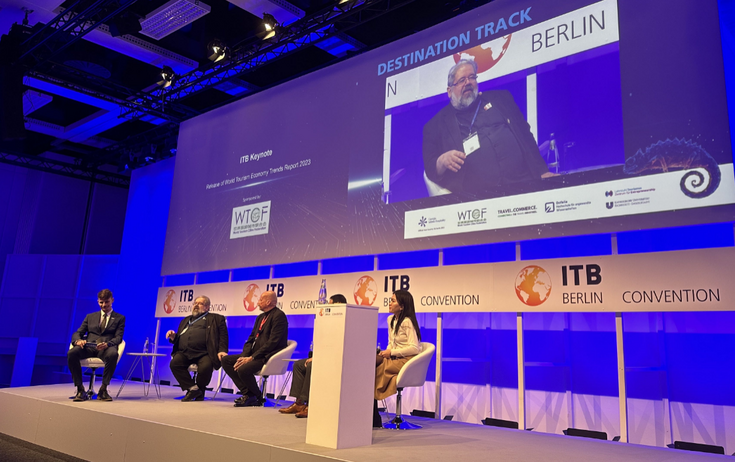 WTCF's thematic forum "Outlook for the Chinese Tourism Market in 2023" [Photo via WTCF]
On March 9, WTCF organized a thematic forum themed "Outlook for the Chinese Tourism Market in 2023". During this section, as a representative of Berlin, one of WTCF's city members, Ralf Ostendorf, Director of Market Management at Visit Berlin, said that Visit Berlin has been keeping a good watch on the Chinese market and engaging with partners in China, and has never stopped marketing in China even during the COVID-19 pandemic. Now, as China is loosening its exit-entry restrictions, more air connections and better visa facilitation for Chinese tourists are needed. WTCF has been playing a vital role in helping Berlin learn about and study the Chinese market. Mr. Ostendorf also highlighted the importance of the Fragrant Hills Tourism Summit where one can meet tourism industry leaders and experts, exchange opinions and find new collaborations for the future. Mr. Ostendorf called for other cities that are not members of WTCF to join WTCF for better understanding the Chinese tourism market as well as tourism industry counterparts from all over the world.
At the thematic forum, Ainura Zhumatayeva, Head of MICE Department, Kazakh National Company JSC., highly praised WTCF. She said that since 2018, the number of Chinese tourists visiting Kazakhstan has slightly decreased. Ms. Zhumatayeva therefore hoped to use the opportunity arising from China's loosened exit-entry restrictions to promote Kazakhstan to Chinese tourists. In her opinion, WTCF is a very useful platform in facilitating international communication and enhancing understanding of the Chinese tourism market. She hoped that cities in Kazakhstan can more actively partake in the Fragrant Hills Tourism Summits and other regional conferences, and strengthen their partnership with WTCF, to make a perfect start in tapping into the Chinese market.
Prof. Dr. Wolfgang Georg Arlt, FRGS, FRAS, WTCF Expert and CEO of COTRI (China Outbound Tourism Research Institute), Simeon Shi, Chief Strategy Officer and Head of Corporate Development at Fliggy, and other guests also participated in the section and discussed the development trend of China's tourism market in 2023 and its positive impact on global tourism development. More than 300 professionals, including representatives of the members of the WTCF, attended the thematic forum.
During the fair, Aino Mellais, Senior Advisor of Travel Trade, Helsinki Partners, commented in her conversation with Richard Matuzevich, Senior Manager of the Liaison Department of WTCF, that the World Tourism Cities Federation Fragrant Hills Tourism Summit 2019 in Helsinki has contributed to the exchanges between Helsinki and China's tourism industry, benefiting both sides in long term. She also claimed that Helsinki would hope to travel to Beijing in 2024 to participate in the annual Fragrant Hills Tourism Summit or another training program organized by WTCF.
(Source: WTCF)