As one of the world's leading home appliance manufacturers, BSH constantly develops innovative products and intelligent features with strong strength. At AWE 2023 (Appliance & Electronics World Expo), BSH exhibited the latest technologies and products, meeting the more intelligent and personalized requirements of Chinese consumers and being committed to improving Chinese people's quality of life.
The booth of Bosch Home Appliances (a brand of BSH) was divided into three categories: "Innovative Superiority" "Built-in Expert" and "Sustainable Consumption". The excellent performance and design of products are presented around "innovative superiority" and "built-in expert"; In addition, in order to show the "sustainable consumption" of the product directly, there are also well-arranged display screens in front of the corresponding category areas to show the sustainable advantages of the product, such as water saving, energy saving, reducing food waste, etc.
The booth attracted an increasing number of people. We interviewed Daegal Ritz, Vice President of Business Unit Laundry Care of BSH Home Appliances (China) Co., Ltd. to talk about their new laundry product Series 8 washer-dryer and his opinions of the industry.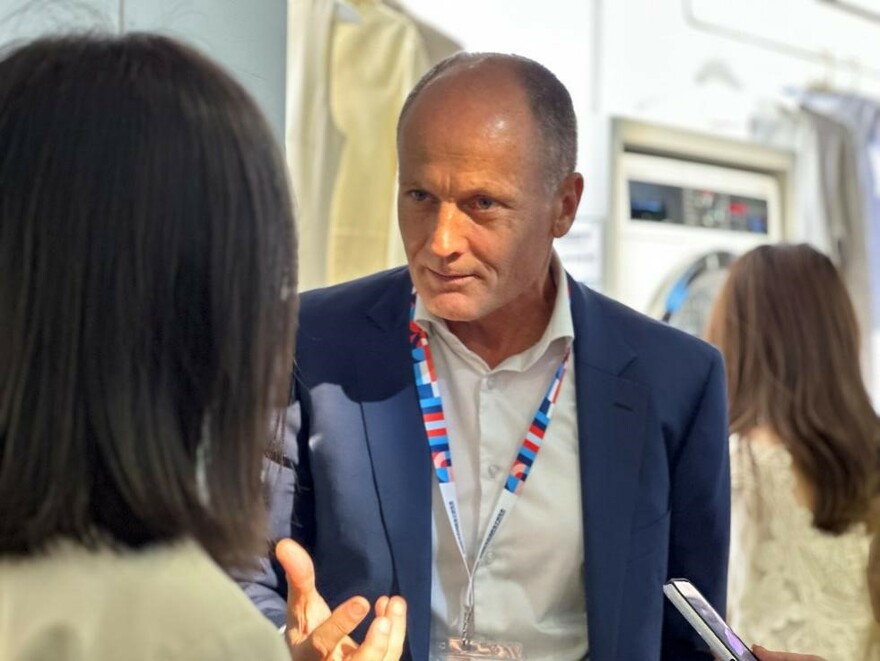 Tian Mi (CRI Online): What do you think of this year's AWE?
Daegal Ritz: We have been a frequent visitor of AWE and we are excited to come back after the pandemic. I would say two topics that excite me. One thing I am excited about is that the Chinese market is recovering. People are getting more confident and moving forward again. If I then complement that with what we have been preparing, we have got great innovations launched in laundry care at AWE this year to cater to the Chinese consumers.
Tian Mi: Would you like to introduce the Series 8 washer-dryer to us?
Daegal Ritz: We know that obviously, the Chinese consumers have been developing more and more to advanced laundry care solutions, not just washing and drying, but also to look at how a washing machine can deliver superior performance, for example, on stubborn stain removal or also taking perfect care of fabric.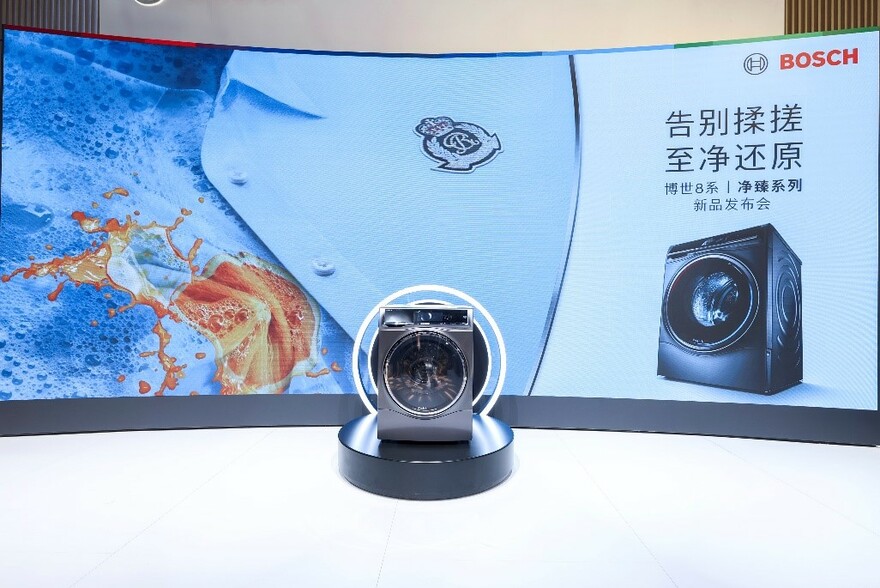 This premium series of washer-dryer adopts dual-dimensional TM cleaning technology, with super circulating water power and surging power washing and spraying dissolving detergent. You can easily clean the stubborn stain without pretreatment. For example, if you have kids and when they do sports, they've got some marks or they've got some ink from class. Then this washer-dryer can perfectly clean them. Also, for the washing and care of special fabrics such as precious silk and wool, people can realize accurate temperature control and keep the fabric material as well as fine washing by its "multi-dimensional micro-steam air washing".
Tian Mi: What do you think of the situation of the industry?
Daegal Ritz: I think the industry is making all along to give compliments to our competitors and us that deliver superior products to the Chinese consumers on hygiene, fabric care and laundry care. The user interface is what we are working on. The competitors are also working on it. Our machine and technology are very easily accessible for the Chinese consumer. You see this here. It gives you a very easy way to operate user interface selection of programs in state-of-the-art technology that gives you a delightful experience.
The whole industry is taking huge investments and try to cater to the consumers better. We are doing the same thing. We are combining our efforts with German craftsmanship. I believe that the beneficiary of all of these activities are the consumers. I see a bright future for the consumers with high-quality products.
Tian Mi: Do you think China is still a very important market for your company?
Daegal Ritz: Definitely! I would even state it further that Chinese market is at the forefront of innovation requirements for us. Chinese consumers are very demanding when it comes to state-of-the-art technology. They are very open to innovation and willing to experience laundry care as a delightful experience.
Tian Mi: What do you expect for the AWE?
Daegal Ritz: I'm quite excited to show our innovations in such an affair. I hope our consumers would also be excited for our products.
Tian Mi: Do you have any plans for the future?
Daegal Ritz: We will keep innovating and improving the quality to cater to our consumers. This is a continuous journey that will never change.