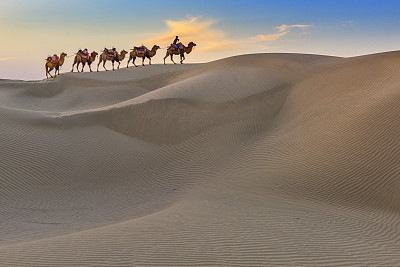 Senior editors and reporters from 18 nations who attended a seminar in the Xinjiang Uygur autonomous region and Beijing on the Silk Road Economic Belt said they look forward to seeing how the Belt and Road Initiative will help people in their countries.
Twenty-three senior editors and reporters from countries including France, Germany, Russia, India, Pakistan, Kazakhstan, Kyrgyzstan, Uzbekistan and Egypt participated in the weeklong seminar hosted by the State Council Information Office. It concluded over the weekend.
The group spent five days in the Xinjiang Uygur autonomous region to get a better understanding of China's westernmost region, which China sees as the core area of the Silk Road Economic Belt.
The belt is part of the China-proposed Belt and Road Initiative, which also includes the 21st Century Maritime Silk Road. The goal is to build a trade and infrastructure network connecting Asia with Europe and Africa along the trade routes of the ancient Silk Road.
During the seminar, participants exchanged views with experts and scholars on China's economy, culture, religion and ethnic affairs.
Pakistan has expressed enthusiasm for the initiative because it includes the China-Pakistan Economic Corridor, said Fatima Zakir, manager of Fight Media Group in Pakistan.
"The development of the corridor has boosted infrastructure construction in Pakistan and offered more job opportunities for the locals," she said.
China and Pakistan will also enhance cooperation at Gwadar Port and build a railway connecting the deep-sea port to Xinjiang's Kashgar. Such cooperation will benefit people from both countries, Zakir said.
The initiative will bring people closer, so they can try to overcome difficulties - including security issues - together, said Sayed Hafizullah Ahmadi, assistant editor-in-chief at Afghanistan Times.
The Afghan government is keenly interested in the initiative and ready to get involved, he said. It is expected to boost local employment, which is important to stability.
Azerbaijan welcomes investments from China, said Vusal Nabiyev, deputy editor-in-chief of Azli Press.
"Azerbaijan wants to play a role as a bridge connecting the West and the East. I think every country taking part in the initiative can benefit from it," Nabiyev said.