Mass speed skating marathon kicked off in Yanqing, Beijing
|
ChinaNews
|
Published:2020-01-14 11:09:56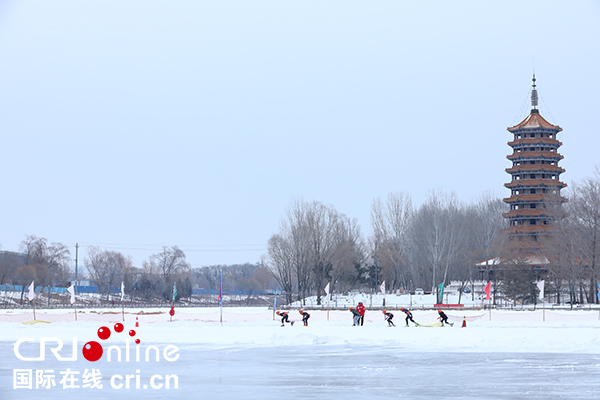 The game was going on intensely [Photo: Zhang Hexuan]
On January 11, 2020, Skating to 2022 --- National Mass Speed Skating Marathon Series of China (Beijing Yanqing Session), sponsored by Winter Sports Management Center of General Administration of Sport of China, Beijing Municipal Bureau of Sports, and the People's Government of Yanqing District, and undertaken by Yanqing's Sports Bureau and Gardening and Greening Bureau of Yanqing, was held at the outdoor skating rink of Donghu Lake, Gui River in Yanqing District. This event attracted more than 100 ice sports enthusiasts from Beijing, Tianjin, Hebei, Inner Mongolia and other places to participate.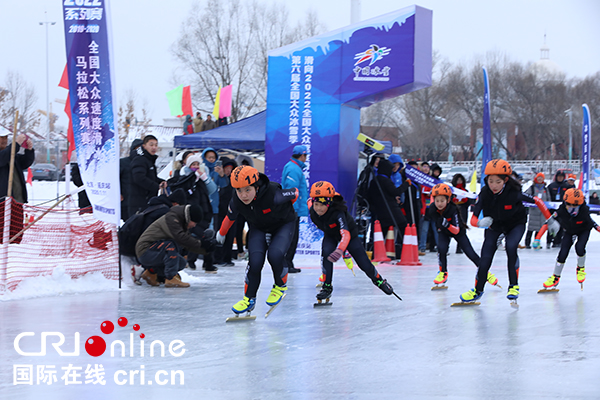 Teenagers' 2,000-meter race kicked off [Photo: Zhang Hexuan]
The competition included races of women's 5,000-meter, men's 10,000-meter, teenagers' 2,000-meter and 3,000-meter, and 4,000-meter relay, eight groups in total. There were many experts in this event, and the competition in each group was fierce and exciting. As the game started, the competitors skated on the ice of Gui River at express speed.
This event aims to set off a new upsurge and build a platform of winter sports for more people. It also, with a stronger vitality and motivation, aims to attract the society's attention to sports on snow and ice, so as to lay a solid foundation for achieving the goal of getting 300 million people to regularly participate in ice and snow sports as well as cheer on the Beijing 2022.
There are 20 sessions in the Skating to 2022 --- National Mass Speed Skating Marathon Series of China, with races across the country. As the event continues, it is favored by majority of skating enthusiasts at home and abroad, which has strongly promoted the development of mass and competitive ice sports in China and attracted an increasing number of skating enthusiasts, especially young people.
As one of the three competition zones of the Beijing 2022, Yanqing, since the successful bid for the Winter Olympics, has been focusing on popularizing ice and snow sports and creating an atmosphere of the Winter Olympics. Additionally, Yanqing has already conducted 4 international-level, 8 national-level, 12 city-level, and 8 district-level events, bringing 120,000 people to participate in winter sports.