On July 27, the foreign vloggers participating in Daka China 2022 - Exploring Magnificent Landmarks in Inner Mongolia Online International Communication Event, along with the reporters from China's central-level media outlets, visited Kubuqi Desert.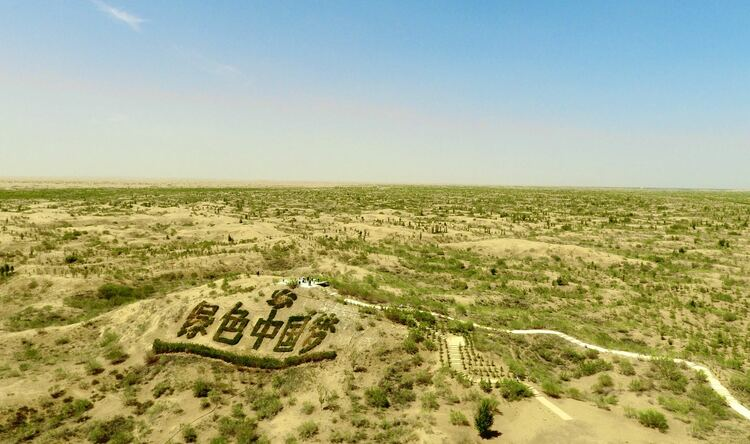 Today's Vibrant Kubuqi Desert [Photo by Yang Yadong]
Situated on the south bank of the S-shape Yellow River, Kubuqi Desert is the seventh-largest desert in China, covering a total area of 18.6 thousand square kilometers. Over the past three decades, the local government, Elion Resources Group (a group dedicated to the control of desertification), social organizations, farmers, herders and many other organizations and individuals have together created a worldwide miracle of turning the desert into an oasis.
During the tour, the foreign Internet influencers arrived at Shafeng Lvgu (the Sand Peak Green Valley) in Qixing Lake Scenic Area of Kubuqi Desert. Standing on the viewing platform, these participants saw the dunes extending several kilometers and the lush wilderness stretching to the desert's hinterland, a view embodying the achievements made in the local ecological governance.
"People here have been actively restoring the local ecosystem through planting trees with drones, aerial seeding and other scientific and technological means. The achievements made in the ecological governance of Kubuqi Desert are incredible. I think the key cause of these achievements is Chinese government's attention to this area, which resulted in the persistent efforts to improve the environment over the years," remarked Cyntia Midori Yamauchi, a Brazilian vlogger.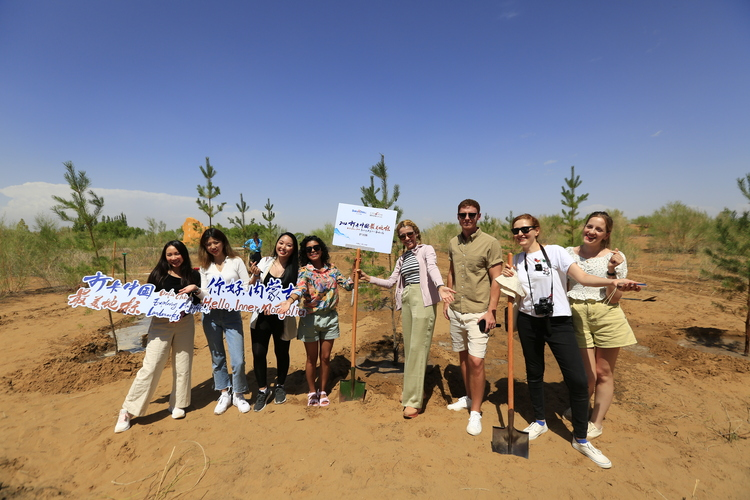 A group photo of the foreign Internet influencers in the riparian forest in Kubuqi Desert [Photo by Yang Yadong]
In the afternoon, the foreign Internet influencers also visited the riparian forest of the desert, with each of them planting a Mongolian pine tree with a shovel.
The foreign Internet influencers also conducted interviews at the 200-million-kilowatt Photovoltaic System Project for Desertification Control in Kubuqi of Western Inner Mongolia Base. With a total investment of nearly CNY 12 billion, by utilizing the rich local land resources, solar energy resources and wind energy resources, the project has formed a comprehensive circular development pattern integrating light, electricity, vegetable, grass, medicine, livestock and poultry industries.
Jason Richard Lightfoot, a vlogger from the UK, remarked that "China's mode of desertification control through photovoltaic means is really successful. More than fully utilizing the sandy land and bringing clean energy output, it has also provided the locals with job opportunities. It is indeed a practice that is worth learning for other countries and regions."