On the evening of September 2, Daka China 2022 - Exploring Magnificent Landmarks in Shandong Online International Communication Event was successfully concluded.
Daming Lake is one of the three most famous attractions in Jinan. "The water is clear and clean. It's great that the lake is protected so well," praised Younus Ghazali, a Pakistani vlogger. Baotu Spring was granted the title "The Best Spring in the World" by Emperor Qianlong of the Qing Dynasty. Taking a sip from the spring, Kim Daesu, a vlogger from the Republic of Korea, was amazed and praised that the water was sweet and clear. Foreign vloggers also took a trip to Longshan Black Pottery History Research Institute to learn about how to make black pottery objects. Mendes Pedro Monteiro, a vlogger from Angola, and Park Seohee, a vlogger from the Republic of Korea, tried donkey-hide gelatin cakes, donkey-hide gelatin dates, and Jinan Bazi pork. Both of them said that they would like to recommend these delicacies to their families and fans.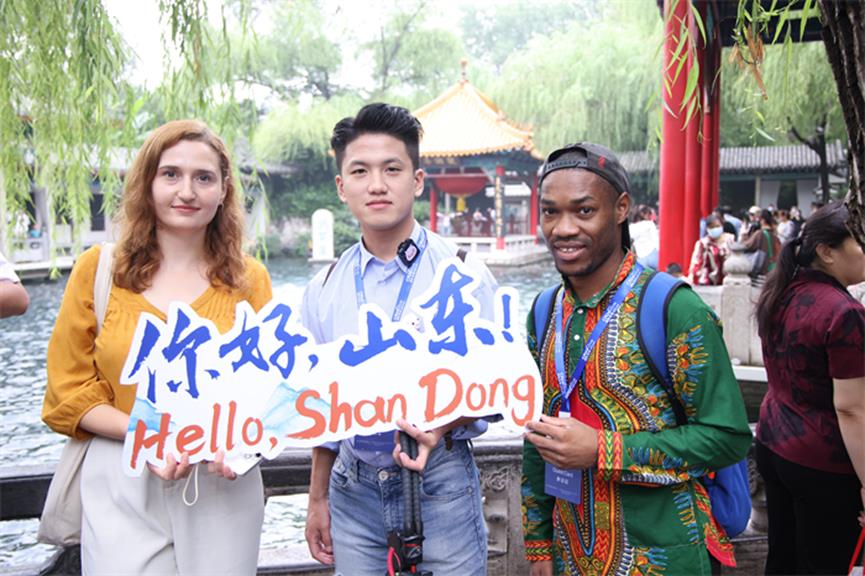 Foreign vloggers visiting Baotu Spring [Photo via Li Kailong]
At Linzi Football Museum, foreign vloggers had fun competing with each other. At Zhoucun Sesame Seed Cake Museum located in Zhoucun Ancient Commercial Town, they ate Zhoucun sesame seed cakes and successfully made some of those under the instructions of the museum's professional staff. At Zibo Hicyan Ceramics Co., Ltd. , every vlogger had fun during their participation in the process of seamless appliqué. Meanwhile, vloggers were all amazed by fine glaze artworks produced by Kangqian Glass Art Co., Ltd.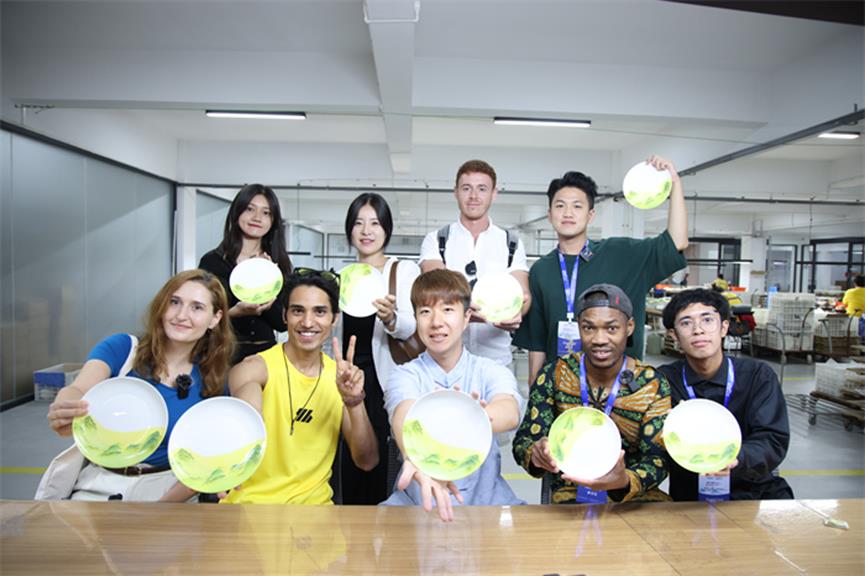 Foreign vloggers showing their seamless appliqué works [Photo via Li Kailong]
Khian Artgold Bonsobre, a vlogger from the Philippines, said, "This visit to Shandong allowed me to experience extensively the Chinese culture. I felt its profoundness and appreciated the local conditions and customs of this great province. It was truly affecting."
"The trip reminds me of a Chinese idiom 'All rivers run into the sea'. I think it is a good one to summarize the inclusive and tolerant nature of the Chinese culture," said Kim Junbum, a Korean vlogger, while recalling his trip to Shandong.