Pingqiao Tofu Soup, one of the typical dishes of Huaiyang cuisine, was invented in Pingqiao Town of Huai'an in east China's Jiangsu Province. Located on the eastern bank of Beijing-Hangzhou Grand Canal, Pingqiao Town boasts a history of more than one thousand years.
Plain as it looks, cooks must follow strict rules in every step to make it perfect. Silken Tofu is the type of tofu used to make this soup. Put it into cold water before mixing it with other ingredients and take it out of the pot as soon as the water gets boiled. After that, remember to press the tofu gently to keep it fresh and tender.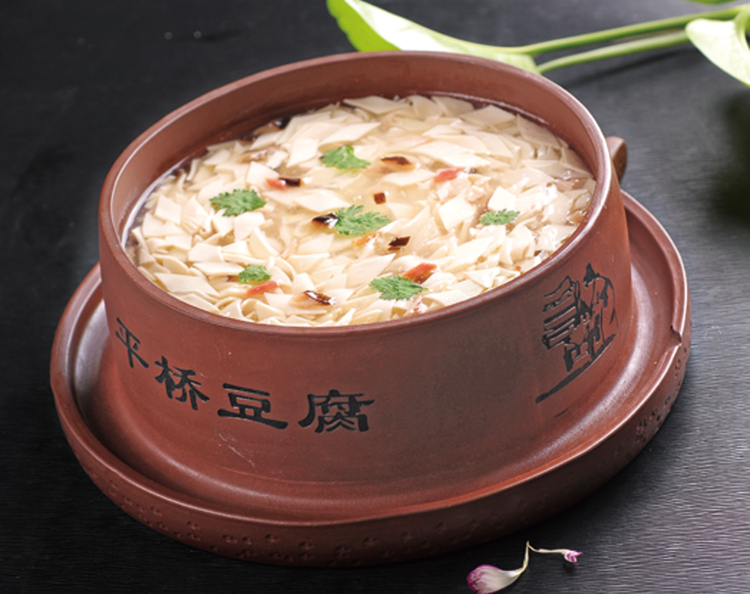 Pingqiao Tofu Soup [Photo via China Huaiyang Cuisine Culture Museum]
Pingqiao Tofu Soup is as fresh and tender as egg white. The silken tofu has to be cut neatly into extrmely thin slices, and then mixed with diced mushrooms, chicken and crucian carps. Before putting all the ingredients into the pot, fry green onions and ginger with oil. Cook the soup over high heat until it gets boiled and then top the soup with diced coriander.
The skills of tofu-cutting play a critical role in the taste of Pingqiao Tofu Soup. Cooks are required to make the tofu slices as thin as possible. The thinner the tofu slices are, the better the soup will be.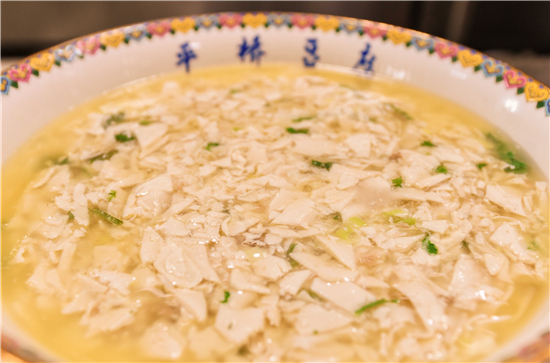 Pingqiao Tofu Soup [Photo by Guan Weifa]
Cooks who are good at cooking Pingqiao Tofu Soup are masters of estimating the temperature of fire and oil. They attach great importance to timing as the outer surface of a piece of silken tofu can be turned into slightly golden within ten seconds over fire. When Pingqiao Tofu Soup is served, it is hot taste with crispy outer surface and tender inside.
The skills of cooking Pingqiao Tofu Soup have been listed in the first and second batch of intangible cultural heritage of Huai'an and Jiangsu Province respectively.