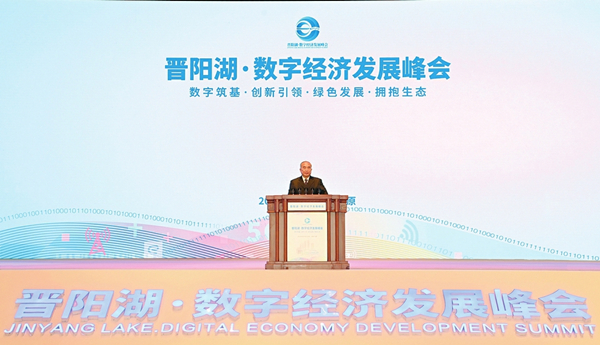 Lin Wu, Party chief of Shanxi province, addresses the keynote forum of the Jinyang Lake Digital Economy Development Summit in Taiyuan, Aug 19. [Photo from Shanxi Daily]
The Jinyang Lake Digital Economy Development Summit kicked off in Taiyuan, capital of North China's Shanxi province, on Aug 18.
From Aug 18 to 20, a keynote forum, 10 sub-forums, a report on academicians' achievements, an exhibition and a series of supporting activities are being held nearby Jinyang Lake in the city.
The Jinyang Lake Digital Economy Development Summit is a vital national industry exchange platform in the field of digital information.
Before this, Shanxi had successfully held two sessions of the Jinyang Lake Summit for the Integrated Circuit and Software Industries. More than 2,000 representatives from national ministries and commissions, industries, leading companies, and institutes attended the sessions, which saw the signing of 222 projects and the establishment of 14 innovative institutions in total.
The province has been committed to building first-class digital infrastructure, integrating into the nation's "east-data-west-computing" project, carrying out demonstration applications of digital technologies, and enhancing the quality of digital products and services.
In 2021, the core industrial revenue of Shanxi's digital economy increased 26.4 percent year-on-year to CNY 194.83 billion ($28.63 billion), pioneered the layout and construction of digital infrastructure such as 5G base stations and data centers, and achieved certain first-mover advantages in semiconductor materials, data labeling, and smart mining.
This year's summit will promote cooperation among participating institutions and enterprises, attract more technologies and projects, further the application of the new generation of information technology in various industries, drive the high-quality development of the digital economy, and facilitate the comprehensive high-quality development of the province.