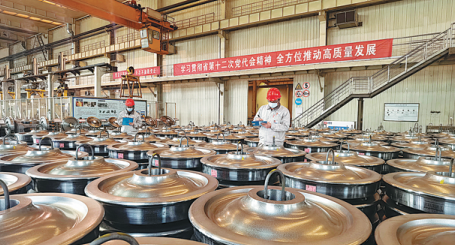 Workers at Taiyuan Heavy Industry Railway Transit Equipment assess product quality before delivery. [Photo by Su Xiaoyu for China Daily]
Loaded with 50 containers of train wheel axles produced by Taiyuan Heavy Industry Railway Transit Equipment, a freight train bound for Europe departed from Shanxi Transformation and Comprehensive Reform Demonstration Zone on Jan 31.
This was one of many recent shipments from the famed train equipment producer based in the Shanxi provincial capital of Taiyuan after it reported a rapid sales increase for 2021.
Despite the challenges of global market fluctuation and the COVID-19 pandemic, the company's 2021 business revenue and profit grew 48 percent and 89 percent respectively from the previous year.
Company executives said axles carried by that train represented the highest technological level of the producer.
Wei Huacheng, an executive for research and development at THIRTE, said this batch of axles was produced based on its latest patented technologies and the latest standards that the company proposed on behalf of the industry.
For its efforts in developing these cutting-edge technologies and industrial standards, the R&D team led by Wei was awarded the second prize for science and technology progress in Shanxi in 2021.
Wei said the enhanced strength in R&D is the secret behind THIRTE's rapid and high-quality growth in recent years.
"Our R&D team has been constantly growing, from a dozen people several years ago to more than 50 at present," Wei said.
Along with the growth in personnel numbers is the growing innovation capacity of the team's members, according to Wei.
"In the past, we made products according to clients' designs," the executive said. "Now we can design advanced and pacesetting products to help to increase added value for customers."
In addition to its own standards, Wei said the company's products are also produced according to the highest standards in the world.
For instance, the company has been granted the CL65, the globally recognized certificate for raw materials used in wheel axle production. "This allows us to export our train wheel axles to more global destinations," Wei said.
A recent development is that THIRTE passed a quality assessment by Deutsche Bahn, the national railway operator of Germany, in 2021.
"As Deutsche Bahn's standard is the strictest in the world, the qualification means we are granted a passport to enter every market globally," Wei said.
THIRTE's innovation system is now composed of a provincial-level technology center, two provincial-level laboratories and four joint labs.
Zhang Ao, an executive for overseas sales at the company, found the company's highlight on markets involved in the Belt and Road Initiative is another reason for its rapid global growth.
"We encountered a downturn in sales in early 2018 because of market fluctuations," Zhang said. "But we quickly bucked the trend as we expanded on the BRI markets."
He said THIRTE is now one of the major suppliers in BRI markets including Iran, South Africa, Poland and Austria. Its sales in the emerging markets of Brazil, Chile and Columbia have also increased steadily in recent years.
Guo Yanjie contributed to this story.