Huai'an Cattail has enjoyed a good reputation since ancient times. It is a traditional dish made of cattail stems that is used by almost every household in Huai'an to make dishes. Plain and common as it is, Huai'an Cattail has always been an indispensable part of Huaiyang Cuisine, just as the old saying goes, "a feast of Huaiyang cuisine will be incomplete without Cattail."
When cooking cattail, dried shrimps are usually added to improve its aroma and flavor, making it taste as tender and crispy as bamboo shoots.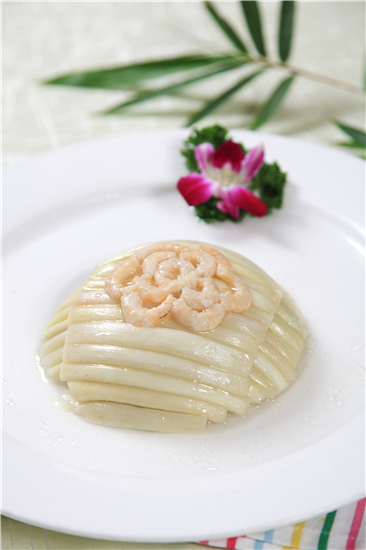 Steamed Cattail with Shrimps [Photo via China Huaiyang Cuisine Culture Museum]
Cattail can be cooked in many different ways, such as frying, steaming, and stewing. Cooking it with meat or other vegetables are also good choices. Steamed Cattail with Shelled Shrimps is one of classic dishes of Huaiyang cuisine. As its name suggested, Shrimps and cattail stewed with chicken soup, offering a light and fresh taste. It is also nutritious. The dish looks so tempting as the purely white appearance of Cattail complemented by shrimps.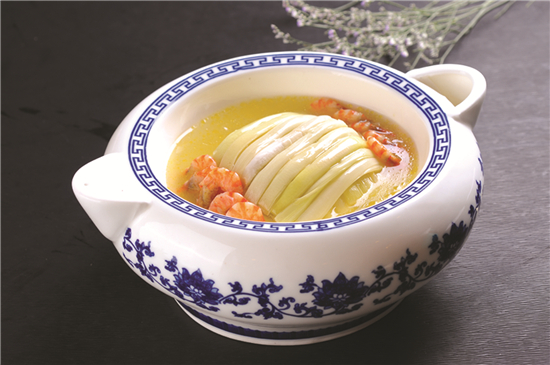 Steamed Cattail with Dried Shrimps [Photo via China Huaiyang Cuisine Culture Museum]
Other popular dishes with cattail in Huai'an include Steamed Cattail with Dried Shrimps, Chicken Porridge with Cattail, Steamed Cattail, Stewed Cattail with Meatballs, Stewed Cattail with Hens, Cattail with Shizitou Meatballs, and Braised Cattail with Tofu. Cattail is a green and healthy vegetable with low fat.