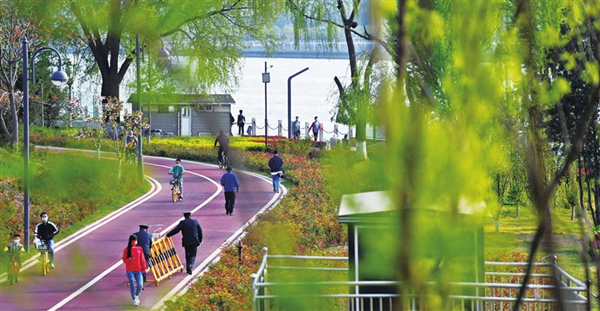 Visitors roam the riverside bike path in Fenhe River scenic area in Taiyuan, April 18. [Photo from Taiyuan Evening News]
Taiyuan, capital of North China's Shanxi province, will promote the ecological protection and high-quality development of its area of the Yellow River basin in 2021-25.
The city will strengthen the ecological governance of the Fenhe River Urban Park, promote the landscaping and gardening of the urban section of the Fenhe River basin, and form a new model for the ecological protection and restoration of the urban sections of big rivers.
The protection of the ecological corridors of the main body and tributaries of the Fenhe River and key ecological areas of the basin, as well as the expansion of forests in the basin, will be strengthened.
Focusing on water, air quality improvement and ecological restoration, Taiyuan will work to attract and integrate domestic and foreign innovative resources and strengthen the research, development, and application of key technologies.
Projects will be carried out to solve key technical problems in environmental management and water resource utilization in the middle reaches of the Yellow River.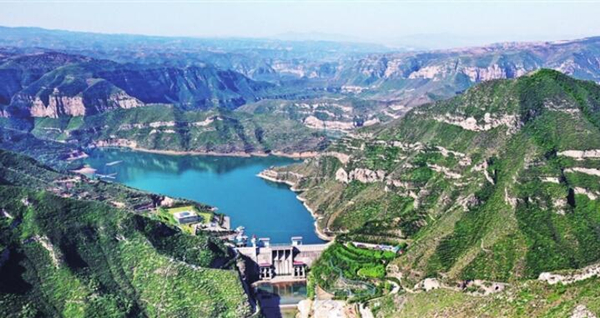 The Fenhe No 2 Reservoir ensures a stable water supply to the lower stream of the river in Taiyuan. [Photo from Taiyuan Daily]
The city will further the transformation, promotion and industrialization of advanced and applicable technological achievements related to the environment, and support innovators in the development of new technologies and products.
It will also promote the application of advanced clean energy technologies, comprehensively examine clean production and carry out technological transformation.
Pilot projects for near-zero carbon emissions, carbon emission rights leasing, and financing will be carried out as well, and a number of parks and communities will become carbon-neutral.