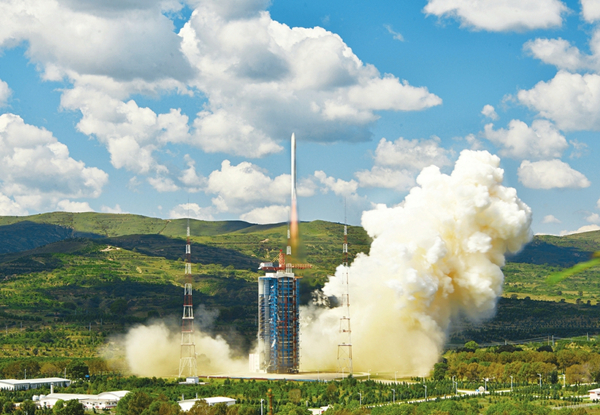 The Taiyuan Satellite Launch Center in Shanxi province. [Photo from Shanxi Daily]
China launched a Long March-2D rocket on May 5, as part of a mission to send a group of eight satellites into space from the Taiyuan Satellite Launch Center in the northern province of Shanxi.
Established in 1967, the facility was the first space launch center independently constructed by China. It is mainly responsible for the launch of satellites, scientific research and training support and deep space target detection.
Over the past 55 years, the center has sent over 200 satellites into orbit, creating more than 10 firsts in the country's aerospace history.
For decades, scientific and technological personnel at the center have been committed to scientific and technological innovation and extensive research and testing of aerospace technology – cracking a series of daunting and major technical problems concerning aerospace launches.
In one breakthrough, the Taiyuan Satellite Launch Center used a Long March 6 carrier rocket to send 20 micro-satellites into a predetermined orbit on Sept 20, 2015.
The facility currently has the ability to launch multiple types of rockets using multiple modes and its comprehensive launch capability has consistently achieved leapfrog developments.
In recent years, with the continuous increase in the density of space launches, speed and efficiency have become the key issues that modern space launch sites must face.
To respond to the challenge, the launch center has promoted independent innovation and scientifically transformed its facilities and equipment.
Earlier in March, China's first intelligent launch site embarked on its first space mission at the Taiyuan Satellite Launch Center, successfully taking two satellites into orbit. The use of the new launch site in the center is widely said to have ushered in a new generation of intelligent launch sites in the country.