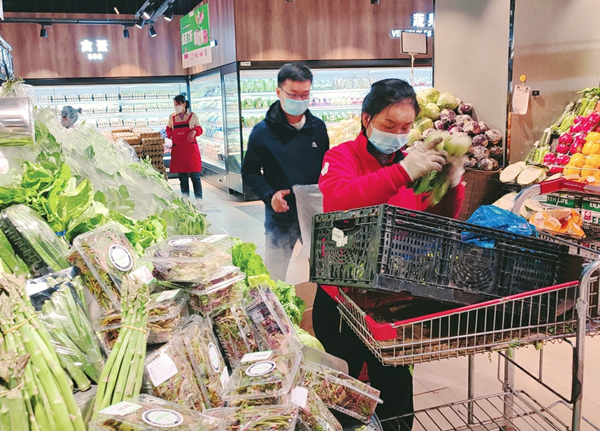 Residents purchase food in a supermarket in Taiyuan on April 17. [Photo/Shanxi Daily]
Since the locally transmitted infections announced on April 3, Taiyuan, capital of Shanxi Province in North China, has taken decisive measures to bring the recent COVID-19 epidemic under control.
This round included 43 local confirmed cases, four of which were discharged from the hospital and 39 of which were treated in the hospital, as well as 81 asymptomatic infections as of 12:00 am on April 15. A cluster at the Yunda Express logistics base in Qingxu county, Taiyuan, was related to 11 confirmed cases and 59 asymptomatic infections.
Taiyuan has dynamically altered epidemic prevention and control in various areas, according to the epidemiological survey.
More than 900 workers at the logistics base have been taken to centralized quarantine centers, and over 7,000 express workers in Taiyuan have been questioned about their trips and health.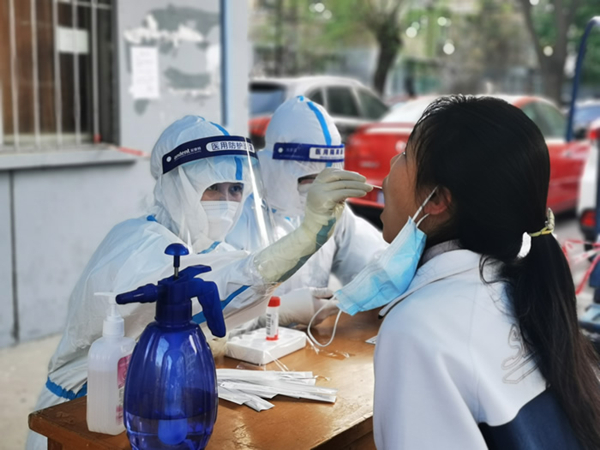 Medical workers carry nucleic acid tests in Xiaodian district, Taiyuan on April 16. [Photo/Yellow River News]
Taiyuan has analyzed 9.55 million samples in 16 rounds of regional nucleic acid testing and 13 rounds of antigen self-testing since April 3. The current round of nucleic acid and antigen testing in Taiyuan, with the exception of Qingxu county, yielded negative results.
Daily necessities, such as grains, oils, meat, eggs, milk, fruits, and vegetables, are in ample supply, with prices being stable. There are also plenty of medical protective supplies on hand.
The city has established 12 vehicle passes for the transportation of critical supplies, and issued more than 5,400 passes to ensure the passage of vehicles for the transfer of daily necessities and to preserve regular production and living order for local residents.