Longtan Valley
|
ChinaNews
|
2019-03-25 16:46:53
China's premier narrow gorge, Longtan Valley, was carved out of the bedrock by the former water course of the Yellow River 1.2 million years ago. The 5.5 kilometer long gorge is reputedly the most beautiful in China with purplish-red quartz rock being scythed by the torrential flow of water creating sheer cliff faces.
The breathtaking geotechnics of Longtan Valley are exposed in the North China Block from the Achaean eon to the Cenozoic era and provide a window into the immensity of geological time Longtan Valley zigzags through what are called its 'pothole','lane', and'collapsed'sections, and reflecting the Chinese proclivity for lists is said to have'six natural mysteries','seven ponds', and 'eight natural wonders'.
After a several kilometer trek up the mouth of the valley (or a ride on a golf kart), visitors descend into the gorge to the Feilong or'Flying Dragon' pool. A small waterfall crashes down into an eight meter deep pool with a diameter of 20m and a 'white dragon' eroded hole on its side caused by the abrasion of the water.
At its narrowest point, the canyon is a mere ten meters wide and nearly 60 meters deep. Rippled wave carved rocks that have been desiccated from the whirlpool force of the water are said to feature an image of Buddha. The ravine then leads onto a reed 'beach'.
Astonishingly, the power of water flow causes the water to flow uphill at a brief point in the rivulet. Equally bizarre specimens of 'eternal love trees'grow straight out of rocks as their roots liquefy the stone. The 'collapsed'section of the gorge includes the 'Book from Heaven Stone', one of many mammoth boulders which have fallen from the sides of the ravine.
The' Tablet from Heaven' is evidence of the ancient history of the Yellow River as it contains five different rocks from different geological eras. Further up the gorge is the 'Heavenly Stele', a sheer stratum of rock that has been pushed 90 degrees by geological forces. The rock appears to be a monolith from the side but seen from another angle is remarkable thin.
A narrow hanging gorge is the outlet of a small stream that creates a waterfall as it plummets to the floor of the canyon, which resembles a 'silver ribbon' from the distance. Further up the gorge, the ravine opens to a large natural 'dragon pool'. The refreshing mountain air is a wonderful respite to downtown Luoyang, although the gorge can be cool even in summer.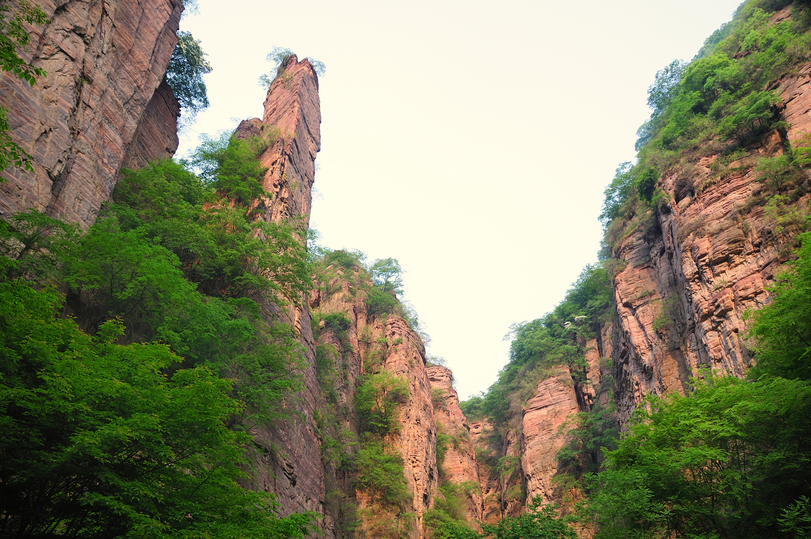 Address: Longtan Village Shijing Town, Xin'an County
Tel: 0379-67134180
Admission is RMB70 in peak-season (Apr-Oct ) and RMB50 at other times.
Opening hours are 06:00-20:30.
Bus services for Longtan depart every day at 8am and 9pm from Luoyang Bus Station. The journey takes 1.5hours and costs RMB20. Buses heading back to town leave from the Longtan valley parking area at 3pm and 4 pm.
(via Luoyang Culture, Radio, Television and Tourism Bureau)